I can't believe it took me until April to put together my best of 2021 book list, but here we are.  Better late than never, right?  In no surprise, the bulk of my list consists of fantasy books though I do have a couple of romance, thriller and non-fiction picks as well.  Now that I've had some space from the past year and from these books, I can confidently say these are the ones.  I remember each of them vividly and just writing out this list has made me want to re-read them all!
Best Fiction Books of 2021 – Fantasy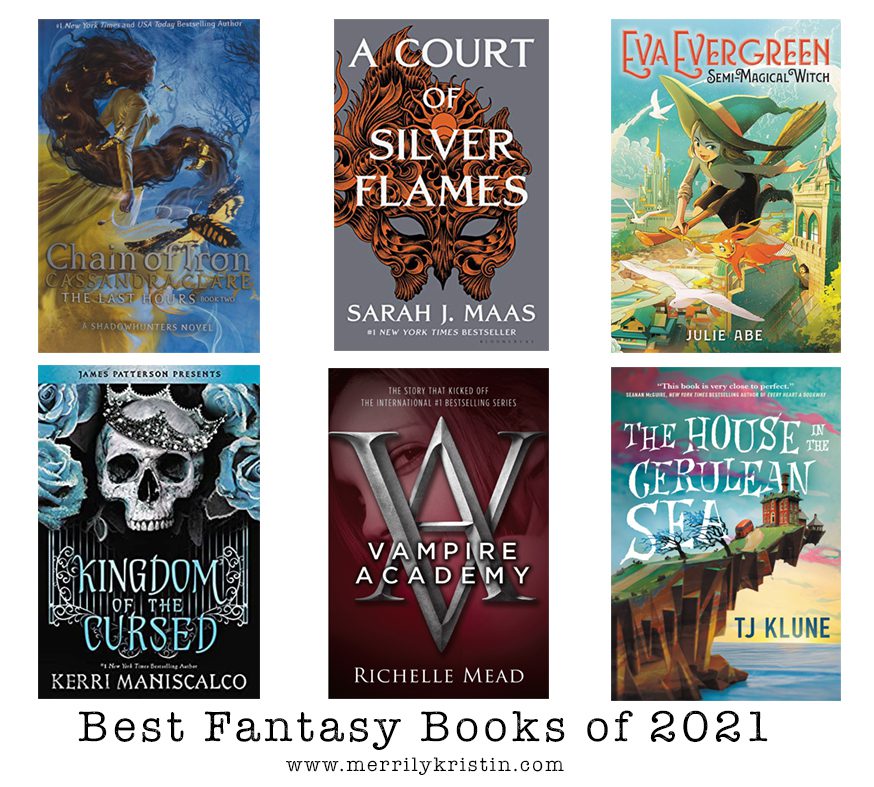 Chain of Iron by Cassandra Clare – Book two in my favorite Shadowhunter series of all time (assuming book three is as good as the first two installments)!  Cordelia, Anna, James, Lucy, Anna, Matthew and co are some of my favorite characters yet and I especially love all of the cameos from my Infernal Devices favorites.  It seems like opinions on this series are mixed, but mine are overwhelmingly positive.
A Court of Silver Flames by Sarah J. Maas – It wouldn't be a reading year without a favorite from SJM.  It took me a really long time to read this book (I talked about this on my YouTube channel, but I was reading it at one of the most challenging times in my life thus far and I ended up having to put it down for a while before I was emotionally ready to continue).  Sarah did such an incredible job with Nesta's story.  There were so many elements of this story that I loved from the House of Wind book club, to the scenes in the library, to the female friendship, to watching broken women rebuild themselves, to obviously, the romance.
Eva-Evergreen: Semi-Magical Witch by Julie Abe – Eva-Evergreen is one of the most delightful and wholesome fantasy books I've read in a long time and I completely fell in love with the world and the characters.  It has major Kiki's Delivery Service vibes and feels just as whimsical as a Ghibli film.  There's also a little fox companion that I can best describe as an Eevee.  I'm so glad there's another book (I'm actually planning to read it this month!) and there's a spin-off about another character releasing this summer.  You can bet that will be on my TBR as well!
Kingdom of the Wicked & Kingdom of the Cursed by Kerri Maniscalco – After loving Kerri's debut series, Stalking Jack the Ripper, I had no doubt I would also love Kingdom of the Wicked, but I wasn't expecting it to be captivating from page one! I vividly remember texting Alexa after reading only the prologue and telling her that I was already pretty sure this would be a new all time favorite book.  And thankfully I was correct! I am so looking forward to re-reading both books before the conclusion later this year.  The series starts with a murder mystery where our main character is trying to avenge the death of her twin, and we slowly learn about witchcraft and how the seven deadly sins play into this world.  AH-MAZING.
Vampire Academy series by Richelle Mead – I had previously read books one through three in the series but I took a break and just never continued.  I had every intention of re-reading the first three, one per month, and finishing out the series by the end of the year.  Well, I started in August and I had such a great time revisiting this series and these characters that I binge read all six books in a single month.  I'm so excited for the tv adaptation.  Unpopular opinion but I rewatched the film after my re-read and I still love it.  I'm now planning on reading the Bloodlines series as soon as possible!
The House in the Cerulean Sea by TJ Klune – This is another wholesome fantasy that completely captured my heart! I love all of the characters and the slow burn slice of story about misfit kids at an orphanage.  Linus is tasked with determining if their orphanage is to stay open and the kids slowly work their way into his heart.  It's completely charming.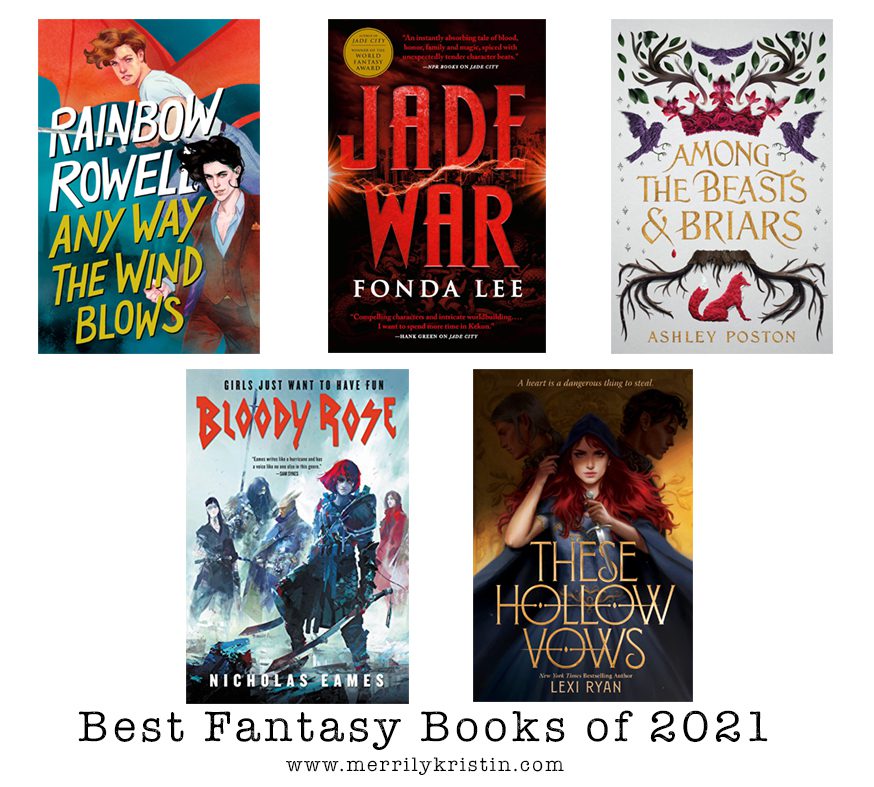 Any Way the Wind Blows by Rainbow Rowell – This is the final book in the Simon Snow series and it's another one I loved.  Unlike the previous books on this list, Any Way the Wind Blows is really more of a romance novel set in a fantasy world than a fantasy novel with some romance.  And I'm totally fine with it because Simon and Baz are soulmates and I love seeing their relationship play out.
Jade City & Jade War by Fonda Lee – Let me just say that while I loved Jade City, I LOVED Jade War.  As in, Jade War is currently in a three way tie for my favorite book of all time.  Fonda Lee's mob family fantasy following the Kaul's is my lifeblood.  I have such a deep connection to all of these characters and despite most of them being pretty morally grey characters, I only want good things for them.  Let me rephrase that, I only need good things for them because if Fonda Lee breaks my heart in Jade Legacy, I don't know how I'll go on.  I am unhealthily invested at this point.
Among the Beasts and Briars by Ashley Poston – This book read like a fairytale in the best way possible.  While I found elements of the plot to be pretty predictable, it was a comforting kind of predictability.  The descriptions, the atmosphere, and the cursed woods all kept me hooked on Cerys's story.  Also, there's a fox so how could I not love it? I mean really!
Bloody Rose by Nicholas Eames – Nicholas Eames is an all time favorite author of mine with only two books under his belt.  Kings of the Wyld is one of the best fantasy books I've ever read with the perfect mix of heartwarming moments, humor, and very high stakes.  It's successor, Bloody Rose, doesn't compare to book one in my opinion, however, I still love it more than most of the other books I read last year.  The plot was a bit meandering in this one and I definitely missed the main characters from Saga, but I still really enjoyed Tam's journey and adventure with Bloody Rose and her band.  It was especially fun to read it right after re-reading book one.  I really hope we get book three news soon!
These Hollow Vows by Lexi Ryan – This was a completely unexpected favorite for me last year and I've since gotten several people to read it and they've all loved it too (and unfairly, they've all gotten ARCs of book two while I'm sitting here waiting for the public release lol!).  I'm actually really looking forward to re-reading this book in anticipation.  These Hollow Vows has been compared to The Cruel Prince and ACOTAR, two of my favorites and while I agree those are apt titles, it's very much its own compelling Fae story.  Brie is such a great heroine and I loved seeing how she's used by Fae princes to achieve their goals.  The world is beautifully described, as cruel as you would expect from faeries and the love triangle had me addicted.
Best Fiction Books of 2021 – Romance / Thriller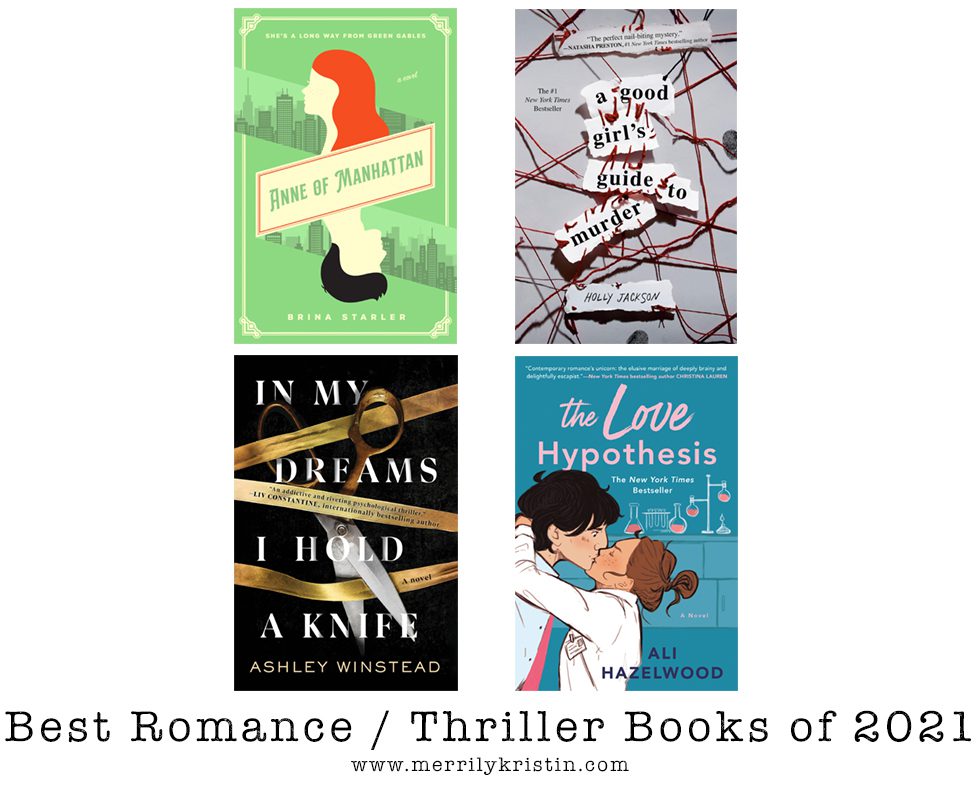 Anne of Manhattan by Brina Starler – I am a huge Anne of Green Gables fan and I truly adored this modern romance that reimagines Anne as a Long Islander reconnecting with Gilbert in Manhattan during their college years.  Brina really captured Anne's playful spirit and I loved getting some steamy scenes between Anne and Gilbert.  My only criticism was some of the flashbacks (especially the long one toward the end of the book), but overall I had a great time reading this one.
A Good Girl's Guide to Murder series by Holly Jackson – Wow. I have no words for this series. I listened to it on audiobook and I cannot recommend that format enough if you decide to check out the series.  A Good Girl's Guide is mostly told in podcast form so it was a really compelling listen.  There were moments in book two when my heart was racing because I was so worried about Pip! Book three definitely took a dark turn and while I had a lot of issues with the way the story went, I am still actively thinking and talking it out with friends so it clearly left an impact!
In My Dreams I Hold a Knife by Ashley Winstead – Ashley Winstead is my newest auto-buy thriller author after inhaling this incredible debut.  It's a dark academia novel following a group of 30 year old friends going back to their school for a reunion.  During their time there, one of their best friends was murdered and her brother, the now dean, is determined to find the real killer. There are no likeable characters in this book, but the story was so well written that I couldn't tear myself away.  It was very atmospheric and quite possibly one of my favorite thrillers ever.  I cannot recommend this one enough!
The Love Hypothesis by Ali Hazelwood – I was so skeptical going into The Love Hypothesis since it was very hyped and my two best friends thought it was only okay.  I'll often skip books based on their opinion but I am so glad I couldn't resist the prospect of a romance between scientists.  Like many others, I fell so hard for this book! It started as Reylo fanfiction (a couple I most definitely do not care for) but I really love Olive and Adam.  I'm really glad we're getting three novellas and another book set in the same universe from Ali this year!
Best Non-Fiction Books of 2021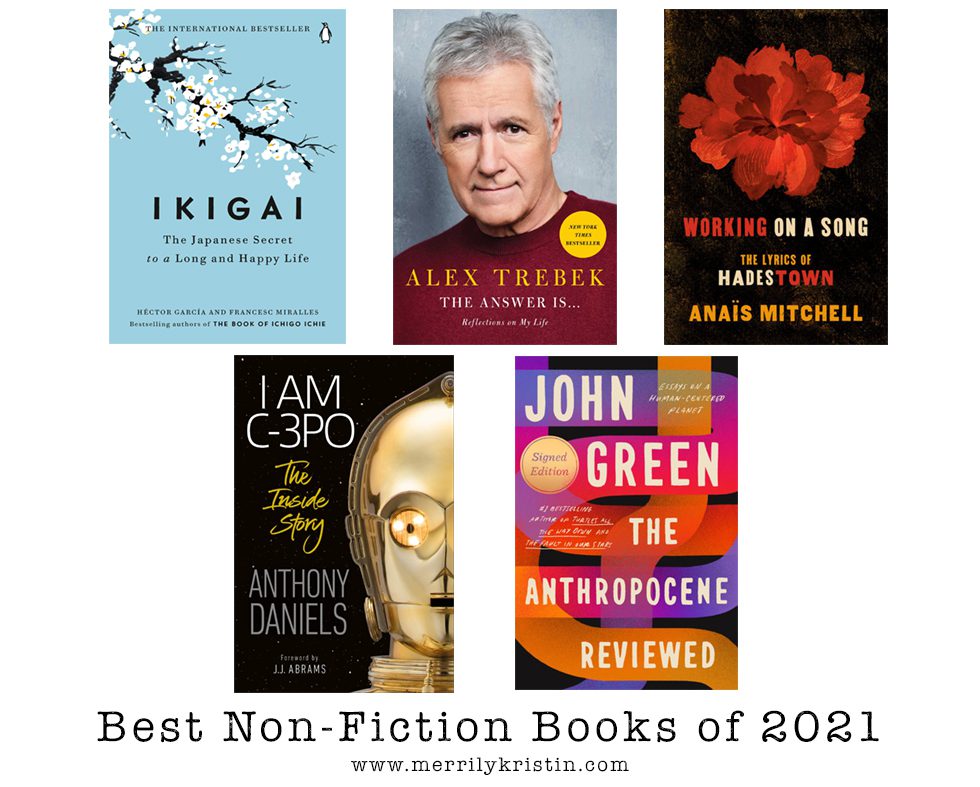 Ikigai by Hector Garcia Puigcerver – This book explores the Japanese concept of finding your Ikigai.  There were so many useful life lessons and insight into Japanese culture, specifically focused on Okinawa.  Okinawa has the highest concentration of people who live to be over 100 years of age in the entire world and it's largely because of their lifestyle choices including their eating habits, philosophy on work, and overall less stressful way of life.  I've been planing a re-read already and I'm excited for my library loan to come off hold.
The Answer Is… by Alex Trebek – Jeopardy! has been my favorite show since I was too young to even understand what was happening.  My parents have always told me that as a baby, I would immediately go quiet once the Jeopardy! music started playing and I would stare wide-eyed at Alex for the full half hour.  I feel like I grew up with Alex Trebek so imagine my surprise when I listened to his autobiography (partially read by him, partially read by Ken Jennings), and realized how little I actually knew about him.  His character really shines through- anyone who's watched the show can sense how kind and encouraging Alex was.  He's truly an A+ human and I was so sad when he ultimately passed away.  Jeopardy! really hasn't found its stride since Alex's departure and I don't think anyone will ever be able to live up to his legacy (though I do think Ken and Levar Burton did excellent jobs hosting).
I'm Working on a Song by Anais Mitchell – Hadestown is one of my favorite Broadway shows ever so when the book debuted, I placed an immediate hold on the audiobook from my library.  Hadestown is incredible and it manages to evoke so much emotion from me even though it's a story I've heard retold many times.  The play focuses on two couples, Hades and Persephone, and, Orpheus and Eurydice, while being narrated by Hermes.  So many of the songs in the show are so relevant to today's world and hearing Anais explain her inspiration behind the lyrics and their evolution over time before hitting Broadway was the ultimate treat.  The book definitely had me crying at points!
I am C-3P0: The Inside Story by Anthony Daniels – It's no secret that I'm a huge Star Wars fan and that C-3PO is my favorite droid of all time. I loved hearing Anthony tell his story about his time working on and promoting the entire Star Wars film history.  I had no idea how badly he and Kenny Baker were neglected when the films originally premiered to preserve the illusion of the droids being robots.  It broke my heart to hear story after story of Anthony being left behind when he and Artoo are basically the main characters and their performance is legendary.  I'm so glad things have turned around since then once Star Wars morphed into what it is today, and I loved the behind the scenes tidbits about his experience filming and interacting with the other stars.  I can definitely foresee myself picking this up again in the future.
The Anthropocene Reviewed by John Green – John Green has always had a way with words and I've enjoyed not only his books, but his vlogbrothers videos for many years now.  John has such a fascinating brain and it leads to such an interesting perspective on the most mundane things.  He draws connections between unrelated subjects and he gripped my interest instantly.  The Anthropocene Reviewed is John's review of the human experience and there are extra chapters on the audiobook that are not in the print edition.  He narrates it himself and since I find his voice familiar and soothing, I loved every minute of his observations.  This is a must read!
*this post contains affiliate links