It's been quite the adjustment trying to figure out when I'm able to fit blogging into my routine with the long commute I now have each weekday.  On top of that, Andrew and I went on vacation and I went on a work trip, all shortly after moving so I feel like I'm just now finally getting back into the swing of things… until we go on our next trip (but I'm not complaining!).  I'm playing a bit of catch up here and combining my April and May book hauls because I honestly can't differentiate between these two months. Also, please excuse the special edition photos. I really have to figure out a new photo spot and lighting while we wait to move into our new home and everything is all over the place in boxes… it's pure chaos honestly.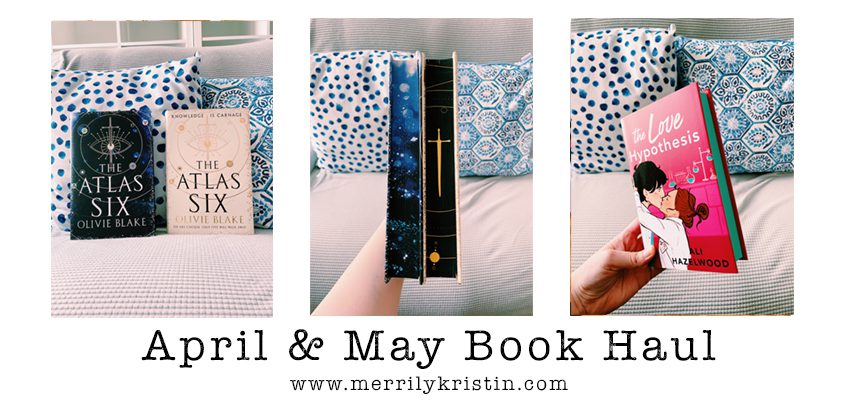 SPECIAL EDITIONS
Illumicrate The Atlas Six by Olivie Blake – Have you ever seen prettier sprayed pages?! Illumicrate really outdid themselves with this gorgeous edition.  I can't wait to read the book!
FairyLoot The Atlas Six by Olivie Blake – This was the inaugural book of the month for FairyLoot's new adult book-only subscription and I have to say I was kind of disappointed with the design.  Since The Atlas Six, I've skipped every book of the month so I'm really hoping they'll start picking some titles I want to read soon!
Illumicrate The Love Hypothesis by Ali Hazelwood – This is one of my favorite romances and I love this beautiful edition! It's such a fun color combination (it kind of reminds me of a watermelon).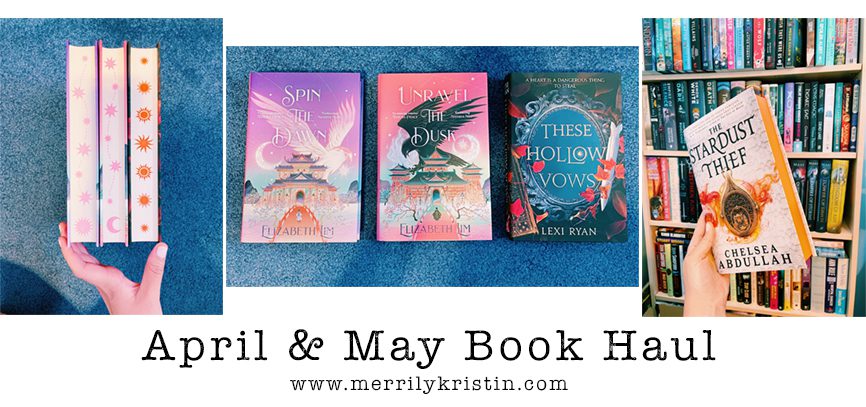 FairyLoot Spin the Dawn by Elizabeth Lim (Blood of Stars #1) – I've been wanting to finish reading this duology and I love how well they match FairyLoot's Six Crimson Cranes / The Dragon's Promise books!
FairyLoot Unravel the Dusk by Elizabeth Lim (Blood of Stars #2) – Still have to read this one, but I couldn't resist the sprayed pages and the lovely cover art.
FairyLoot These Hollow Vows by Lexi Ryan (These Hollow Vows #1) – I'm sure you're not surprised to see this one on here- These Hollow Vows is a new favorite series of mine!
Waterstones The Stardust Thief by Chelsea Abdullah – I am SO looking forward to reading this Arabian Nights inspired debut fantasy novel soon.  One of my most anticipated books of 2022 for sure.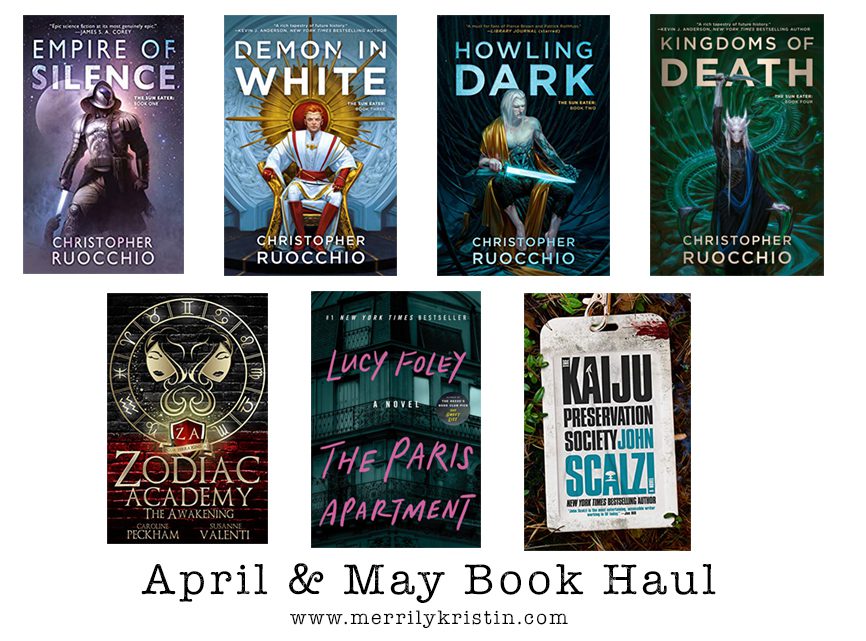 STANDARD EDITIONS
Empire of Silence by Christopher Ruocchio (Sun Eater #1) – I did a thing I don't normally do and I sprung for an expensive hardcover version of this book since they're out of print and I was worried about missing out on it.  I've heard nothing but rave reviews for this series.  So much so, that I ordered books 1-4!
Demon in White by Christopher Ruocchio (Sun Eater #2) – See above!
Howling Dark by Christopher Ruocchio (Sun Eater #3) – See above x2!
Kingdoms of Death by Christopher Ruocchio (Sun Eater #4) – See above x3!
The Awakening (Zodiac Academy #1) by Caroline Peckham & Susanne Valenti – This is such a popular TikTok book and while I don't watch any TikTok videos (I don't like or get them), Amazon keeps recommending this to me so I decided to take a chance.  Pretty worried though since I haven't had any luck with other popular TikTok books.
The Paris Apartment by Lucy Foley – I loved Lucy Foley's The Guest List and I can't wait to read her newest thriller set in Paris.  It's giving Only Murders in the Building vibes.
The Kaiju Preservation Society by John Scalzi – My friend Lili texted me to recommend this book to me and since I had already been eyeing it, I picked up a copy while we were in Rhode Island at Savoy Bookshop.  Bonus, it's a signed edition!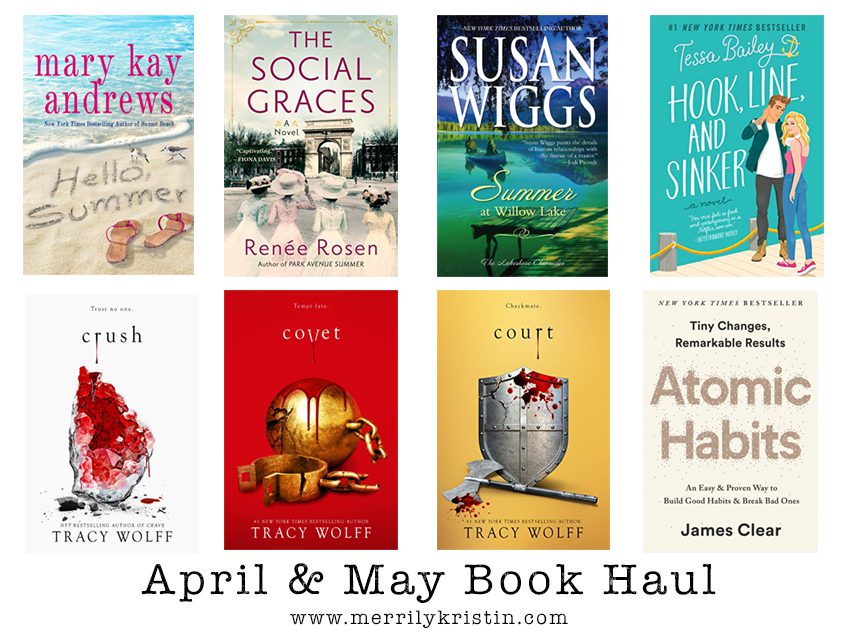 Hello, Summer by Mary Kay Andrews – I've been enjoying mindless summer stories and this cover just screams beach read to me! I had been wanting to try this author and after read a bunch of synopses, this is one I landed on.
The Social Graces by Renee Rosen – After visiting the Breakers mansion, I found myself craving some historical fiction.  I read this one right away- it follows Alva Vanderbilt and Caroline Astor and I truly enjoyed it.  I've already been looking for more Gilded Age novels.
Summer at Willow Lake by Susan Wiggs – This is a long running series that I always saw on the shelves at B&N and when I finally went to buy it, they didn't have any copies lol! I got one elsewhere and I'm excited to give this series a try.
Hook, Line and Sinker by Tessa Bailey (Bellinger Sisters #2) – I already read and loved this one too! Tessa Bailey really wrote a fantastic series and I loved getting Hannah and Fox's story.  I still liked the first one better, but it was a solid companion.
Crush by Tracey Wolff (Crave #2) – I recently read the first book in the Crave series (it's basically Twilight but set in Alaska) and I really enjoyed it! It doesn't have great writing and it's nothing groundbreaking, but it's a lot of fun.
Covet by Tracey Wolff (Crave #3) – See above!
Court by Tracey Wolff (Crave #4) – See above x2!
Atomic Habits by James Clear – This is one of my favorite books of the year so far! I listened to this one on audio and loved it so much that I 1) immediately bought a physical copy for when I read it again, and 2) made Andrew start reading it.  I love it and I can see myself reading this one at least once a year.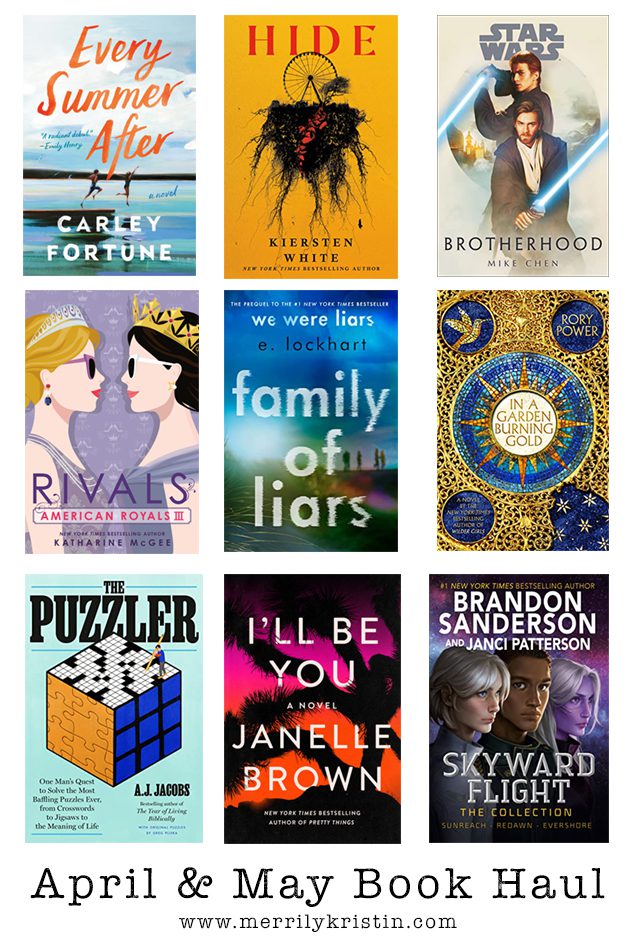 FROM PUBLISHERS
Every Summer After by Carley Fortune – I read this book while I was in Rhode Island drinking rose on the beach and oh man did I love this one! It was such a great romance and I can't wait for whatever Carley publishes next.
Hide by Kiersten White – Love the concept of this one! It's a supernatural / horror novel set at an abandoned amusement park and it follows a girl competing to win a contest by surviving spending two weeks inside the park with her competitors.
Star Wars: Brotherhood by Mike Chen – I could never possibly resist an Obi-Wan / Anakin book and I'm so excited to read it soon!
Rivals by Katharine McGee – I love this series to pieces and Rivals is going to be my next read! It reads like a contemporary novel but with a slight sci-fi twist.  It depicts the royal family of America and what could have happened if we had a monarchy instead of a democracy.
Family of Liars by E. Lockhart – I have to re-read this first book in this series because it's been YEARS and I can't figure out if I should do that before starting this prequel!
In a Garden Burning Gold by Rory Power – This debut adult fantasy from Rory Power sounds really interesting! I talked about it in my May releases post if you want more info!
The Puzzler by A.J. Jacobs – I do SO many puzzles each morning that it's kind of ridiculous.  I've always been drawn to them and there's nothing that I love more than a good crossword.
I'll Be You by Janelle Brown – Always up for a new thriller novel and I had heard great things about Janelle Brown's debut, Pretty Things.
Skyward Flight by Brandon Sanderson – This was randomly sent to me and to be honest, I'm not sure that I'll end up reading it.  I haven't really been interested in the Skyward series but who knows, I'm keeping it in case I change my mind!