I almost skipped making a December book releases post this month since I only have three books to talk about.  If it weren't for Well Traveled, the next installation in my favorite romance series, I think I would've foregone this post altogether! Since I usually stick to 10-12 releases, I'm tempted to let myself choose 13-20 books for January since it seems like that's when everything I want to read is being published.  If I'm being honest with myself, I'll probably read Well Traveled right away, save The Valentine's Hate for February and listen to Your Table is Ready on audio when I can get it from my library!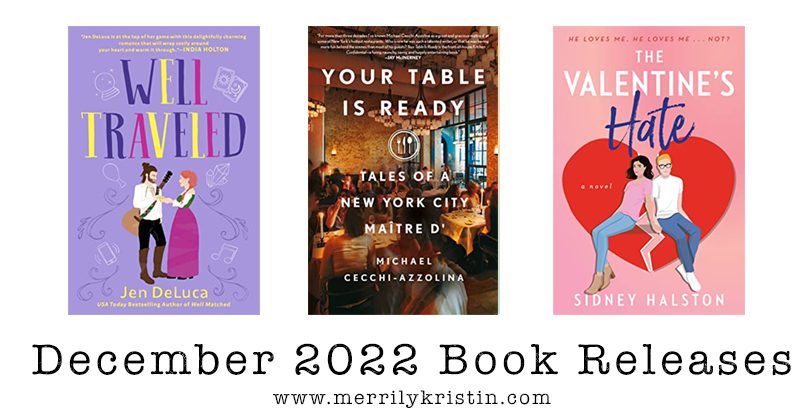 12/6 – Well Traveled by Jen DeLuca (Well Met #4) – Well Traveled in the fourth installment in Jen DeLuca's Renaissance Faire romance series, and it's by far my favorite romance series to date.  This is hands down one of my most anticipated books of the year. I loved getting to meet Mitch's cousin Lulu in Well Played and I'm looking forward to seeing her story take shape and what her role in the Ren Faire will be in Well Traveled.  I'm also definitely hoping for more of Mitch's family (specifically his grandma), and of course, living for any character cameos from previous books (but Emily and Simon forever).
12/6 – Your Table is Ready: Tales of a New York City Maitre D' by Michael Cecchi-Azzolina – This memoir by a maitre d' who controlled the front room of many of New York City's hottest and most in demand restaurants sounds like it had the potential to be incredibly juicy.  I love anything set in NYC and the restaurant industry here specifically is fascinating so to have an insider reveal some of their stories is a craving I'm looking to satiate.  As I mentioned above, I think it'll be fun to listen to this one on audio because of the type of content. It'll feel more like listening to a podcast or (hopefully) a friend gossiping and venting about their job.
12/27 – The Valentine's Hate by Sidney Halston – This enemies to lovers / fake engagement rom-com themed around Valentine's Day seems like the perfect holiday read! We're following Lissette, the maid of honor trying to survive her best friend's pre-nuptial events in the week leading up to her Valentine's Day wedding, when on the first day her childhood nemesis Brian shows up. Brian just so happens to be the reason for all of her hatred toward the holiday.  When someone that Brian is trying to avoid shows up, Lissette gets roped into fake dating him and the feelings start sparking.  I can't think of too many romances set on Valentine's Day, so I'm excited to have a book specifically to read in February.