November is always a big purchasing month because of Black Friday sales and it feels like it's become common for stores to run sales throughout the entire month instead of waiting until the actual day.  My guess is that by running lower sales in the beginning of the month, they hope to sell out of more of their stock at a higher price point because there will always be those people (me) who are afraid to miss out on something.  After December, I want to take a pause on shopping and attempt to commit to 1-2 no buy months. We'll see if I'm able to stick to it!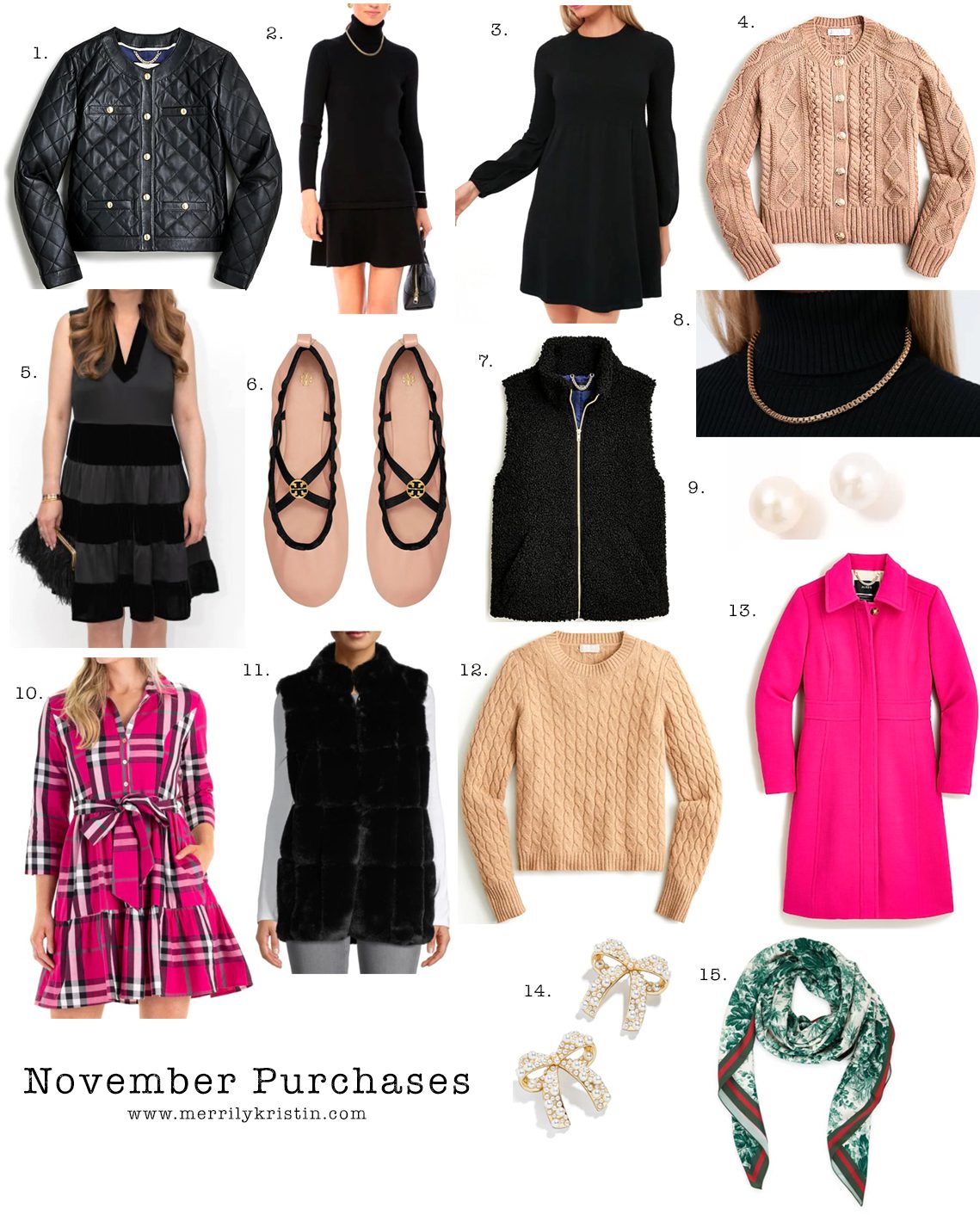 JCrew Collection Cropped Lady Jacket in Leather – this is an all time ultimate wishlist jacket and I'm so pleased I was able to grab one during a sale! JCrew has been killing it this season- they finally feel like they're returning to their roots between the styles and quality of items I've purchased this season.  This jacket looks like a Chanel jacket.  It's so classy and beautiful and again, I just can't believe I finally found the perfect leather jacket!!
Tuckernuck Baxter Turtleneck Dress – This black turtleneck sweater dress is going to be a staple in my closet! It looks so good with tall boots and a camel colored coat or trench and black sunglasses.  This is definitely one of the most NYC outfits in my closet.
Tuckernuck Lennox Mini Dress – I'm sensing a black and/or gold theme here. I was surprisingly pleased when I received this dress in the mail.  The top is a bit ruched, and the fabric is so comfortable! I *almost* wore it to my grandparents' celebration of life party earlier this month, but I opted for something else at the last minute.
JCrew Camel Button Cardigan – I bought this sweater in navy last month and I love it so much that I grabbed the camel color too! Weirdly, the fabric isn't as soft as the navy, but I still love the sweater. It's very warm and the gold buttons really do it for me!
Sail to Sable Charlotte Black Velvet Tiered Dress – This is the dress I ended up buying as part of the Style Charade capsule collection! I had actually wanted the green emerald Charlotte dress but it sold out by the time I signed on.  In any case, I think the black velvet tiered dress was a better choice and will be in my closet for years to come!
Tory Burch Scrunch Ballet Flats – I just fell in love with this style the second I stumbled across them.  I love that they look like actual ballet flats! I always buy at least one pair of Tory Burch flats around Black Friday but I almost forewent my tradition this year until these appeared on the page. So cute!
JCrew Teddy Sherpa Vest – I've been eyeing this vest for a while and I finally picked it up since it's part of the Black Friday sale. It's really chic and will look great paired with black jeans or leggings, a black turtleneck and big sunglasses!
Tuckernuck Box Chain Necklace – When I was in middle school I had a silver bracelet version of this box chain style bracelet from Tiffany & Co., but I'm definitely more of a gold person in my older age.  I love this simple style and how it's a subtle nod to my fashion past.
Tuckernuck 10MM Pearl Stud Earring – This is my second pair of these because I wore my first ones into the ground! One of the pearls ended up falling off, but I wore them 24/7- in the shower, to sleep, in pools, etc. so they were bound to give out at some point.  I love them so much though that I was glad I was able to get the same exact pair as a replacement.
Duffield Lane Pink Plaid Ella Dress – This gorgeous pink plaid dress was a definite impulse purchase after seeing it was on sale for Black Friday on instagram, It very much reminds me of Burberry and I was really attracted to the bright pink!
Belle Fare Faux Fur Vest – I was influenced by Summer Wind to buy this vest when she posted about it on Black Friday and I am SO glad I took a chance! It's so soft and pretty in person and I was shocked at how warm the vest is.  I can finally understand how someone can walk around in a vest and long sleeves in freezing weather!
JCrew Cashmere Cable-knit Crewneck Sweater – I virtually never buy anything from JCrew unless I'm getting a sale price but I had to jump on this cashmere cable-knit sweater that I've been wishing they'd bring back for years.  I'm really glad I didn't sleep on this one because it's already sold out in almost all sizes in the camel color.  I grabbed white too!
JCrew New Lady Day Topcoat – This is so far from something I would ever go for, but I've been really drawn to deep, bright fuschia pink lately (thanks Valentino!) and I think this coat will be a fun pop of color to contrast my otherwise neutral outfit choices! It's going to look so good paired with all black, jeans and a white shirt, or anything tan.
BaubleBar Bow Pearl Earrings – It's no secret that I love bows and I love pearls so these earrings were a no brainer. They're so cute and festive but I think they'll also wear really well in the spring around Easter and beyond!
Tuckernuck Toile Scarf – There are a couple of outfit ideas I've had that involve a nice silk scarf and I fell in love with this one from Tuckernuck! The only way I could've loved it more is if it were blue :-)