This is one of my favorite lists to make each year and it's a list I've never, in all of my years of making it, successfully completed.  My 12 to read in 2023 is a list of books I already own that are currently sitting on my physical TBR.  The idea is to help reduce what I have physically (though I've also never been successful at resisting book shopping and replenishing said TBR).  I like to pick a mix of books and genres, some outside of my comfort zone, some more challenging, and some that I can read very easily but haven't gotten to yet for whatever reason.  I have a plan for completing this list for the first time which involves reading one of these books per month in 2023.  One of my reading goals that I'm most focused on for 2023 is to finally check off the entire list!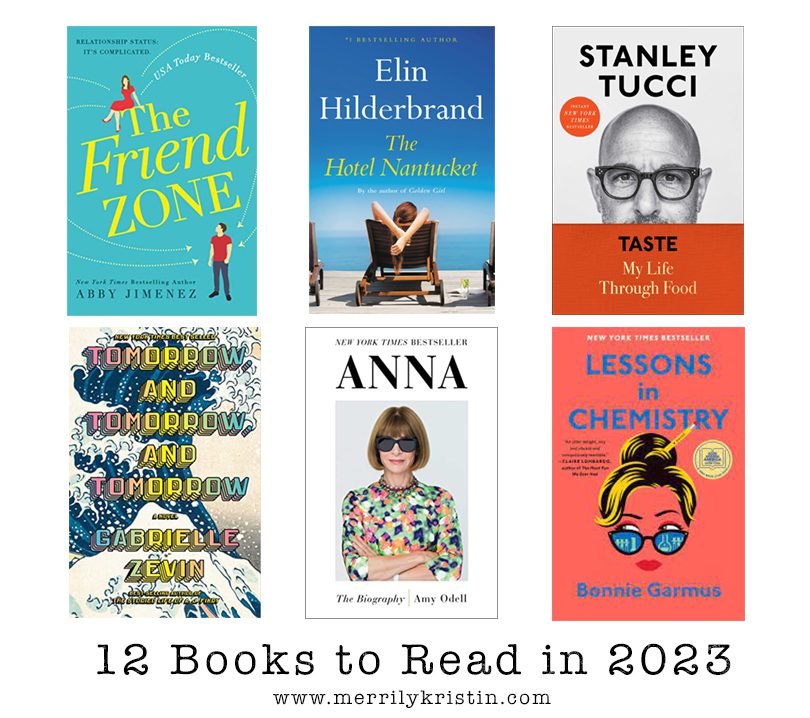 1) The Friend Zone by Abby Jimenez – After loving Part of Your World, I'm so excited to read Abby's backlist and The Friend Zone has been sitting on my TBR for years now.  Another plus of this book is that the protagonist is named Kristen (though it's spelled a letter off from my name).
2) The Hotel Nantucket by Elin Hilderbrand – I still have yet to read any Elin Hilderbrand books which is surprising since I've been wanting to go to Nantucket for years! My love for the island sparked from a YA duology about Nantucket, but Elin is the Nantucket queen so it's about time I dive into her books.  The Hotel Nantucket is her 2022 release and I love that it takes place at a famous hotel and has some strange possibly ghostly things happening.
3) Taste by Stanley Tucci – I'm so excited to listen to the audiobook for Stanley Tucci's Taste! I really enjoy books about food and I have a feeling this memoir about Italian food is going to inspire lots of cooking in my household.
4) Tomorrow, and Tomorrow, and Tomorrow by Gabrielle Zevin – I loved Gabrielle Zevin's Young Jane Young and her newest has gotten so much acclaim! It's literary fiction that follows best friends who are video game designers.  Could not be more interested!
5) Anna: The Biography by Amy O'Dell – Anna Wintour is a fashion icon that I've loved since my college days at FIT .  I read Andre Leon Talley's The Chiffon Trenches in 2022 and I'm really looking forward to hearing Anna's side of the story (and of course, getting more insight into her life and career trajectory).
6) Lessons in Chemistry by Bonnie Garmus – This is another book that's gotten so much buzz in 2022 that I didn't get around to.  I got my own copy in December (the pretty B&N edition with blue sprayed pages) and I'm so excited to read this historical fiction novel set in the 1960's about a female scientist who hosts a cooking show and uses it as an opportunity to teach housewives chemistry.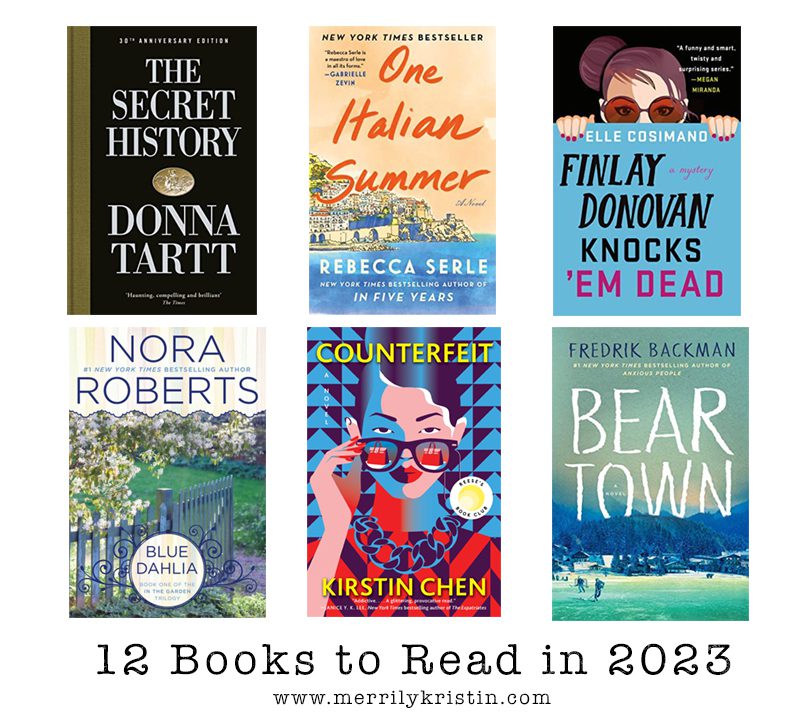 7) The Secret History by Donna Tartt – This book has been on my TBR the longest of any other book on this list! In fact, it was also on my 12 to read in 2022 list so I'm embarrassed that I haven't gotten to it yet.  I almost read it in the fall of 2022, but after reading The Atlas Six, I wanted something a little different and by the time I was ready, the season had passed.
8) One Italian Summer by Rebecca Serle – This one comes highly recommended from my friend Rachel! I love the premise- a young woman loses her mom, takes their planned trip to Positano solo, and somehow meets her mother as a teenager.  I'm also looking forward to more of the Amalfi Coast after being addicted to White Lotus and having nothing to fill the void!
9) Finlay Donovan Knocks 'Em Dead by Elle Cosimano – Finlay Donovan is Killing it was one of my first reads of 2022 and I adored it! I'm so excited to read book two (and three!) in the series in 2023.  Finlay is such a fun cozy mystery and I definitely found myself laughing during book one (which ended with a major cliffhanger!).
10) Blue Dahlia by Nora Roberts – This book has been on my TBR the second longest after The Secret History.  I've never read a Nora Roberts book, and this cover has always appealed to me.  It's the first book in the garden trilogy and I have all three books. I actually picked it up on Book Outlet back in 2015!
11) Counterfeit by Kirstin Chen – This is a 2022 release that I haven't gotten around to reading yet and it was a Reese Witherspoon book club pick.  I got my copy at an independent bookstore in Portland, Maine on our trip last summer and I'm so excited to read it! It follows a Chinese American woman who reconnects with her college roommate that has started a counterfeit ring of knockoff designer handbags and is in need of someone with a US passport to help manage her business.
12) Beartown by Fredrik Bachman – And lastly, another book that's been on my TBR for a long time! I haven't gotten to this one yet because of the difficulty of the subject matter. I have no doubt it'll be a powerful read, but knowing that some people in this small hockey focused town don't believe a young woman who gets taken advantage of because the guy in question is one of their hockey stars is going to be tough to witness,