I've been really enjoying not having a strict TBR to follow since 2022 was definitely a lower volume reading year for me.  Because I was able to get back into a regular reading routine, and read so many books in January (17 BOOKS WOO- my best reading month since February 2022!), I decided I'm going to give TBRs another shot.  I'm only going to highlight six books I want to read so I don't end up feeling overwhelmed and we'll see how it goes. If I end up feeling pressured, or if my mood changes and I don't get to the books listed below and then feel guilty as a result, I'm going to abandon TBRs going forward!  Outside of these reads, I want to focus on reading more romance, but truthfully, my reading will be dictated by whatever comes off hold at the library.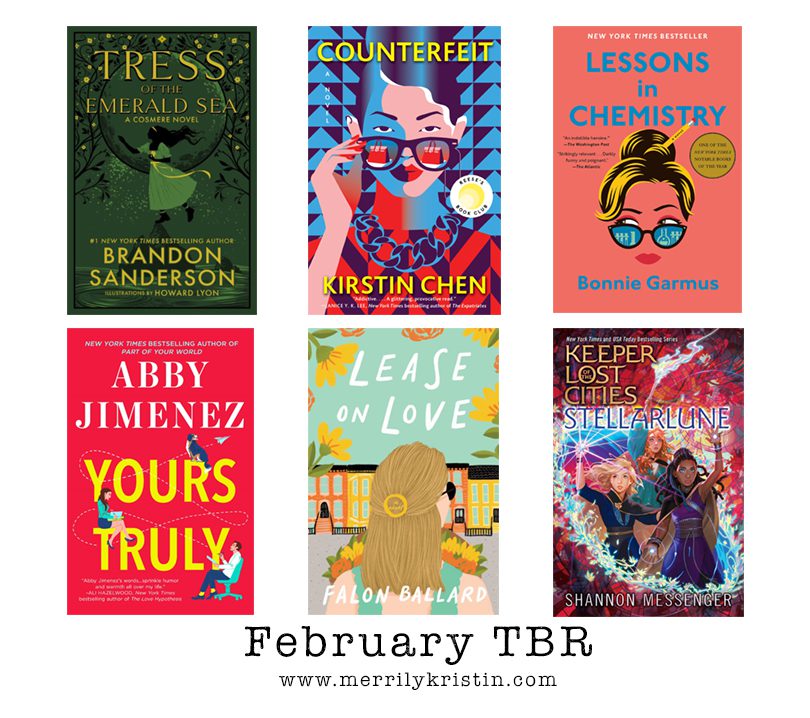 –Tess of the Emerald Sea by Brandon Sanderson – I backed Brandon Sanderson's infamous kickstarter last year when he announced that he happened to write four extra novels over the course of 2020. Only Brandon Sanderson, truly. I'm still waiting for my beautiful leatherbound edition of Tess of the Emerald Sea to arrive, but in the meantime, I do have a Kindle version so I'll be picking it up ASAP. It's inspired by The Princess Bride and I can't wait to read it!
–Counterfeit by Kirsten Chen – I already have this book out from the library and it's going to be my next read so I know I'll be able to cross this one off of my list if nothing else! I picked up a physical copy last year at an indie bookstore in Maine and I love the premise of a woman running a counterfeit handbag ring who's looking for a partner with an American passport.  It's also on my 12 books to read in 2023 list!
–Lessons in Chemistry by Bonnie Garmus – It felt like Lessons in Chemistry was on everyone's favorites of 2022 list and I still cannot believe I didn't get around to reading it last year.  But it's a priority for this year (it's also on my 12 books to read in 2023 list).  In this one we're following a female chemist who uses a baking show as a way to teach chemistry to housewives.
–Yours Truly by Abby Jimenez – I'm so thankful to have Yours Truly on NetGalley and I promised myself I wouldn't request anything new until I made a dent in the books I've already acquired. Part of Your World was one of my favorite books of 2022 and Yours Truly is a companion novel following Bri, the best friend in book one. I can't wait to read her story and see her find happiness though it definitely will have its heavy moments since the synopsis states that her brother is suffering from kidney issues and waiting to get a transplant.
–Lease on Love by Fallon Ballard – This romance sounds so cute! It follows a girl named Sadie who mixes up a dating app and a roommate finding app after a night of too much drinking and ends up on the doorstep of Jack's brownstone.  Jack is grieving the loss of his parents and ends up offering Sadie the spare bedroom while she gets back on her feet but obviously, the pair start to fall for each other.
–Stellarlune by Shannon Messenger (Keeper of the Lost Cities #9) – This is the next installment in the Keeper of the Lost Cities series and I've been dying to get to it! I got my B&N exclusive edition back in November upon the book's release, but it's way too big to carry around.  My library loan is finally listed as 'available soon,' so I'll be diving in the minute it's available! This is a long running series about elves that expands the world with each book.  The cast of characters is so strong and things have gotten VERY intense since the last book.