This is a little bit of a different month when it comes to my monthly purchases! While I did acquire some clothing, I bought some more practical items that I decided to include here on my list.  I'm really pleased with everything I got this month and for once, I don't feel like I went overboard and I haven't been overwhelmed by the number of packages we receive! I also want to note that some of the clothing pieces on this list I ordered in December and received in January so while they're on this list, I didn't actually spend the money on them this month.  I even came in under budget for clothing for like the first time in my life!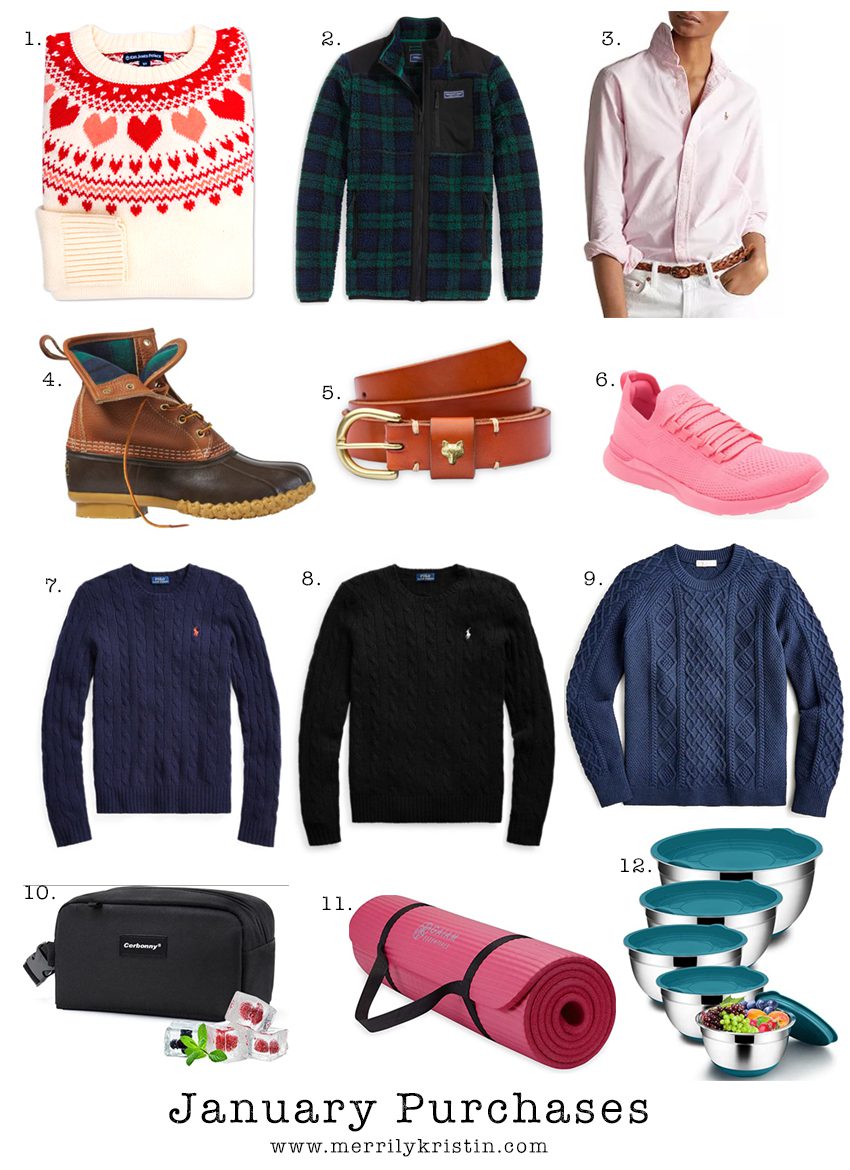 1. Kiel James Patrick The Heartwarmer Sweater – I couldn't resist this cute Valentine's Day sweater! I love the fair isle heart print and I can't wait to start wearing it everywhere in February.  I've been eyeing it since last year, so I'm glad it came back this season!
2. Vineyard Vines Sherpa Fleece SuperShep Full Zip – This is technically from the men's section but I love blackwatch plaid and this will be perfect to wear on hikes or keep me warm in our freezing office while I'm blogging in the morning.
3. Polo Ralph Lauren Classic Fit Oxford Shirt – My first 2023 wish list item and I'm so glad it came back into stock! It seems to go out almost as soon as the restock happens which has been frustrating, but I finally got myself one!
4. LL Bean Flannel Lined Bean Boots – I decided to opt for the flannel lined bean boots so I'll have an extra layer of warmth when I wear these on hikes! I really wanted to get them now so I can utilize them for the winter into spring season and not have to worry about my sneakers getting muddy. I've already gotten a ton of use out of these and can confirm this was an excellent purchase!
5. Kiel James Patrick Fox Head Belt – Another 2023 wish list item to be checked off of my list! This fox head belt is so cute and I love it just as much in person.  I've worn it a couple of times with different sweater dresses already and there are a couple of other summer versions that I want to grab as well!
6. APL Techloom Breeze Knit Running Sneakers – Can you tell I'm having a hot pink moment? I bought these on a whim because I wanted to get a good pair of sneakers to wear indoors while I'm working out.  I've been doing it barefoot or with socks and neither are ideal when I'm trying to lunge and not slide/fall!
7. & 8. Polo Ralph Lauren Cable Wool-Cashmere Crewneck Sweater – This is also on my 2023 Winter wish list in the navy version, but it went out of stock around November and I truly thought it wouldn't return until late summer / early fall.  I had been struggling to pick something to spend my clothing budget on and when I got an email that it came back in stock, AND it was still on sale?! It was a no-brainer and I picked up both the navy and black versions.  My plan had been to get 1 per year but I couldn't resist the black.
9. JCrew Cotton Cableknit Sweater – You might be thinking, why did you essentially buy the same sweater twice? Which is a valid question but I'm going to explain why I did not.  This sweater is cotton which will be really good for Spring/Summer while the PRL ones are wool-cashmere blends for Fall/Winter! It was on sale, plus I had $35 in JCrew rewards so I got it for $50 instead of $128!
10. Freezable Lunch Bag – I really want to make an effort to bring breakfast and/or lunch to work in 2023 (lunch isn't a huge deal since our company is kind enough to buy us lunch every day, but sometimes I want a healthier option).  This lunch bag is small enough that it won't be a pain to lug around in my purse (in addition to all of the other things I already carry on a daily basis) but large enough that I can fit yogurt and something else. I've been using it every single day since it arrived!
11. Thick Yoga Mat – I finally sprung for my very own yoga mat and now I can stop stealing Andrew's like I have been doing for the past seven years.  And bonus, it's pink!!
12. Teal Mixing Bowls with Lids – During the holiday season I made several very large salads for our Christmas Eve and Christmas dinners but since the bowls I own don't have a lid, I had to use SaranWrap to cover them and it was a PAIN.  After my first salad, I knew I would be investing in some big bowls with lids!