I was inspired to post my own version of this after reading and thoroughly enjoying Jenmarie from Anakin and His Angel's post! I've been a Star Wars fan for as long as I can remember, and I've definitely formed a number of opinions about the franchise over the years.  Here are some of my Star Wars facts and opinions :-)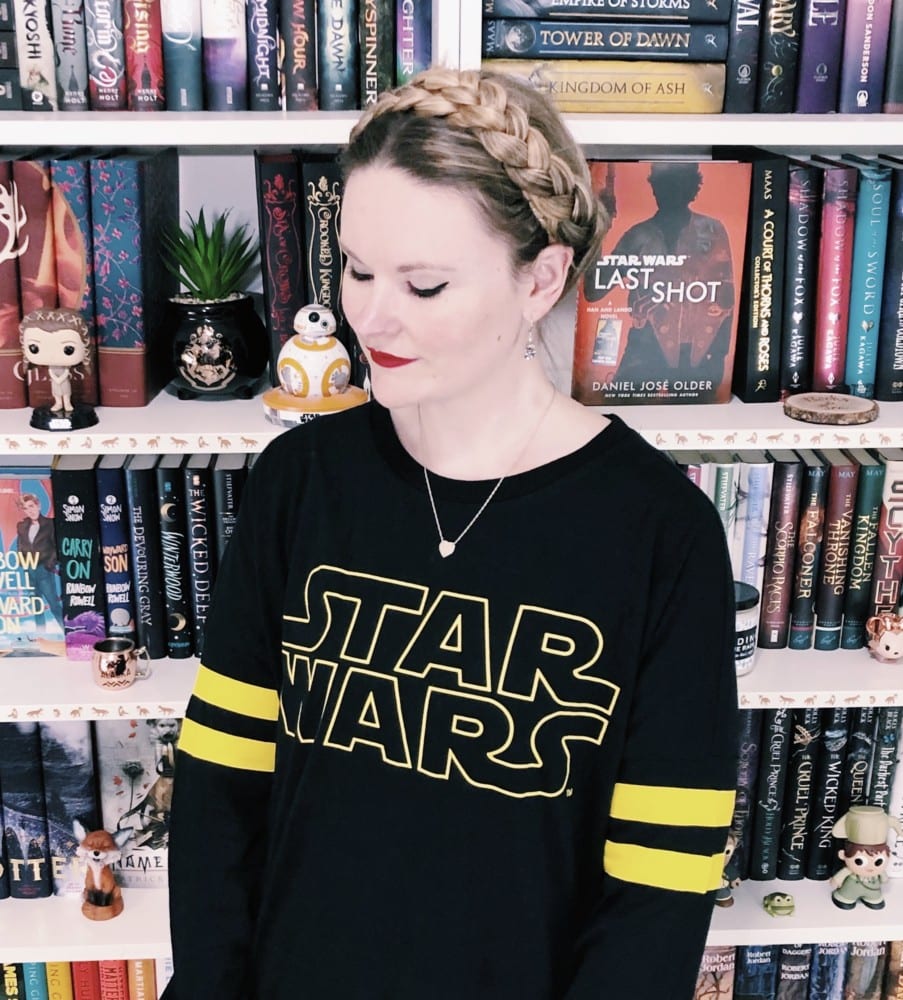 1) My dad took my brother and I to see all three of the original Star Wars films in a local movie theater when they were re-released in the 90's.  My dad said that surround sound was the only way he would let us experience Star Wars for the first time and I'm so grateful for that experience! I'll never forget leaving the theater and one of our friend(who didn't enjoy the films as much)'s takeaway was "ewww he kissed his sister!"
2) I'm lifting this idea straight from Jenmarie, but I feel like it has to be included! My three favorite Star Wars films are A New Hope, Empire Strikes Back and Rogue One.  My favorite animated series is Star Wars Rebels, my favorite live action series thus far is The Mandalorian (but I have HIGH hopes that Ahsoka will overtake it), my favorite adult book is Thrawn by Timothy Zahn, my favorite YA book is Queen's Shadow by E.K. Johnston, and my favorite comic is The Screaming Citadel by Kieron Gillen.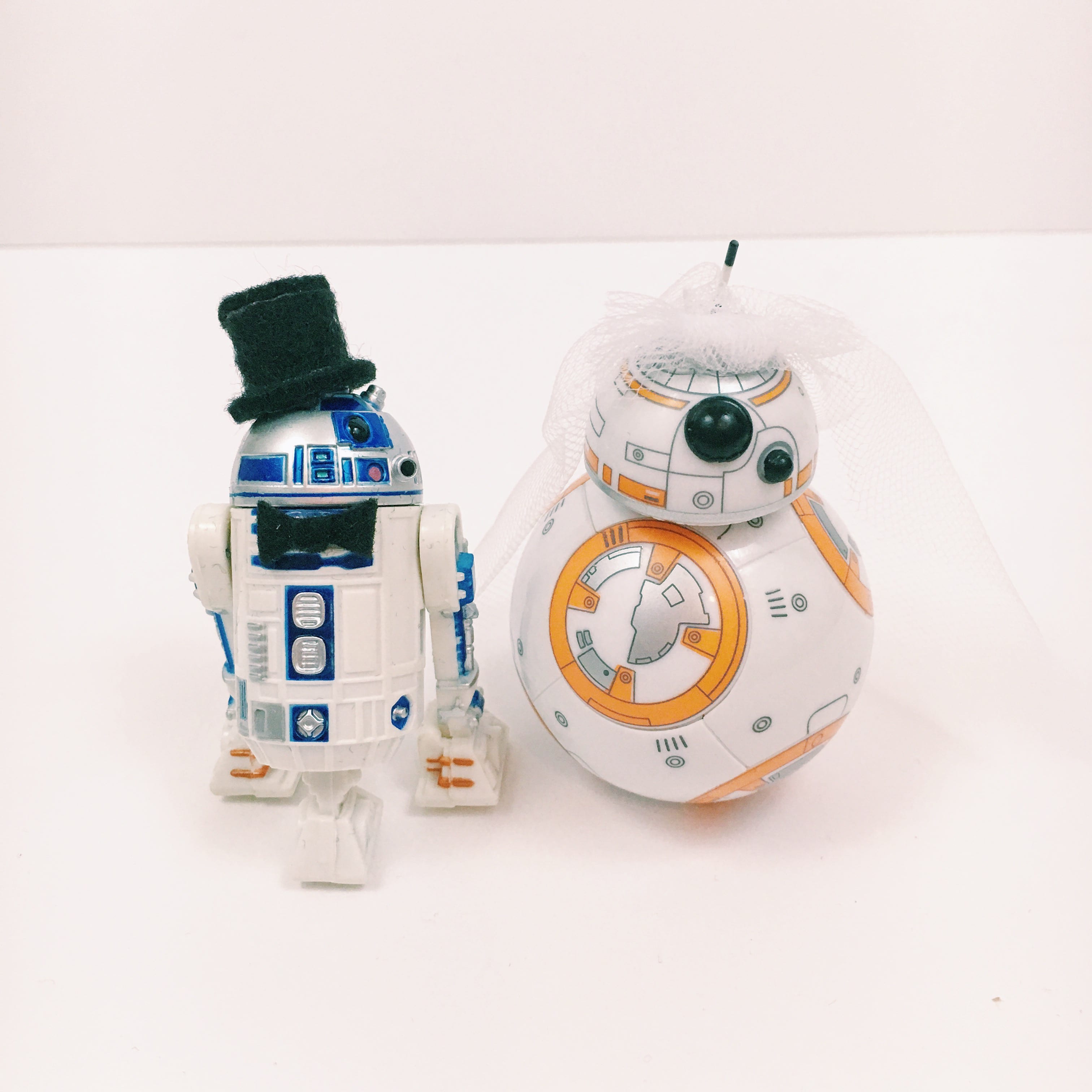 3) I think I was one of the few people who was actually grateful for the Disney publishing takeover solely because I didn't get into Star Wars books until I was older.  I had always been curious but since the expanded universe (now considered Star Wars Legends) was so expansive, I always felt overwhelmed.  When Disney wiped the slate clean, I dove into the new material immediately!
4) I keep a huge and extremely extensive spreadsheet of everything that's officially canon in the Star Wars universe and I check everything off as I watch/read/see it.  I used to keep an abbreviated version that focused on books, movies and tv, but I've since expanded to include short stories, video games and shorts. I use Wookiepedia as my guide! It's also helpful so I can consume everything in publication order because that's the kind of person I am. *shrugs*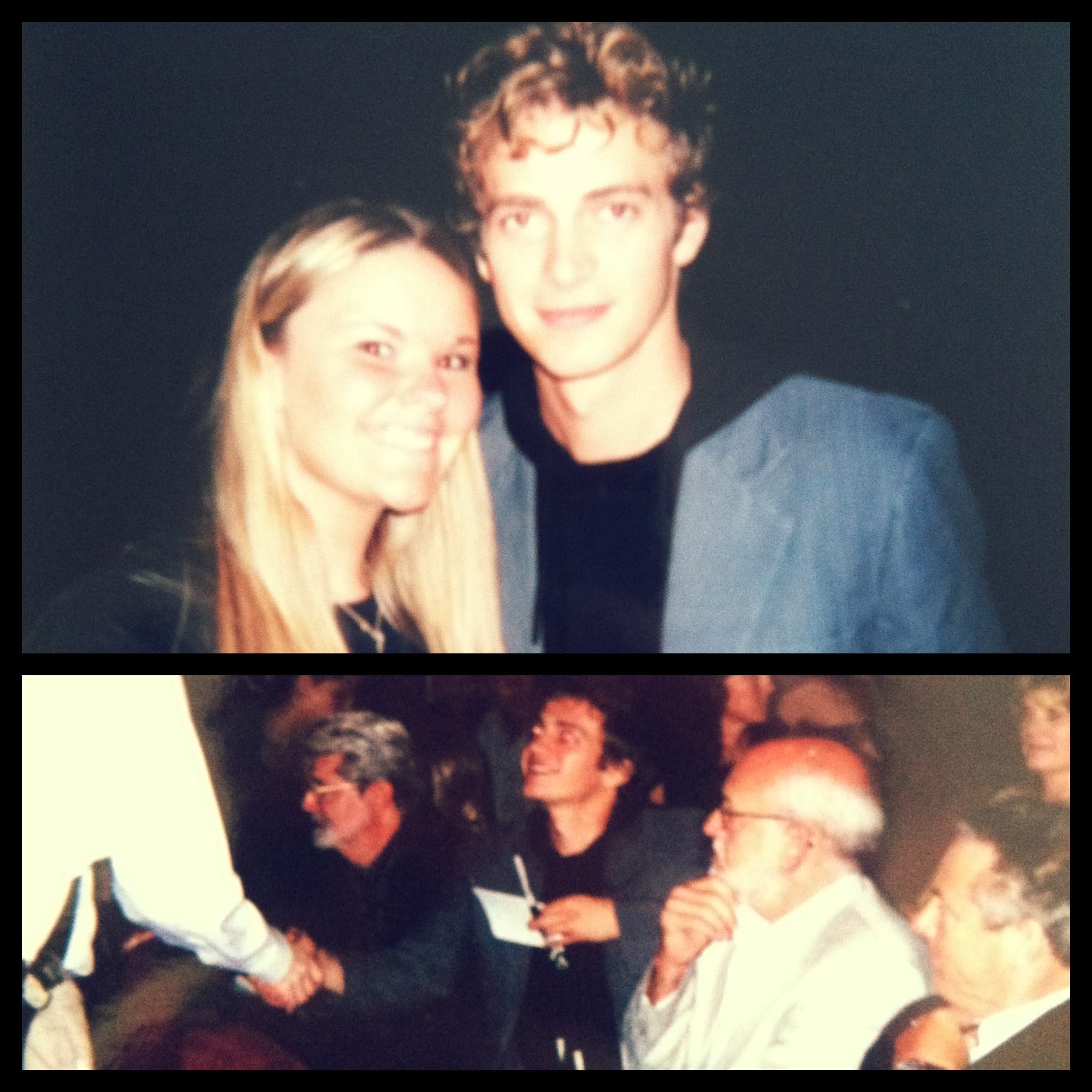 5) When I was starting college at FIT, we were given the opportunity to volunteer to help with shows during Fashion Week.  By the time orientation started for us freshman, the sign up office told my group that the only thing left was Star Wars (it was the iconic Dressing a Galaxy show!).  To say I was elated was an understatement (some of the other girls in my group decided not to bother signing up since it wasn't for a big designer).  I got to meet George Lucas and Hayden Christensen (and I have very blurry photos with both of them from my disposable camera), and after escorting guests to their seats, I was able to sit and watch the show in its entirety. Such a cool experience and one I'll never forget!
6) Another Star Wars experience I'm eternally grateful for was the opportunity to attend Star Wars Celebration in Orlando, FL.  It was the first dedicated Star Wars event I ever attended and I couldn't get over how amazing it was! I got to meet Ashley Eckstein, model for Her Universe, see Kristin (my bff and co-blogger from On Wednesdays We Wear Pink), and I'll never forget how magical it felt to walk the convention center amongst so many other fans!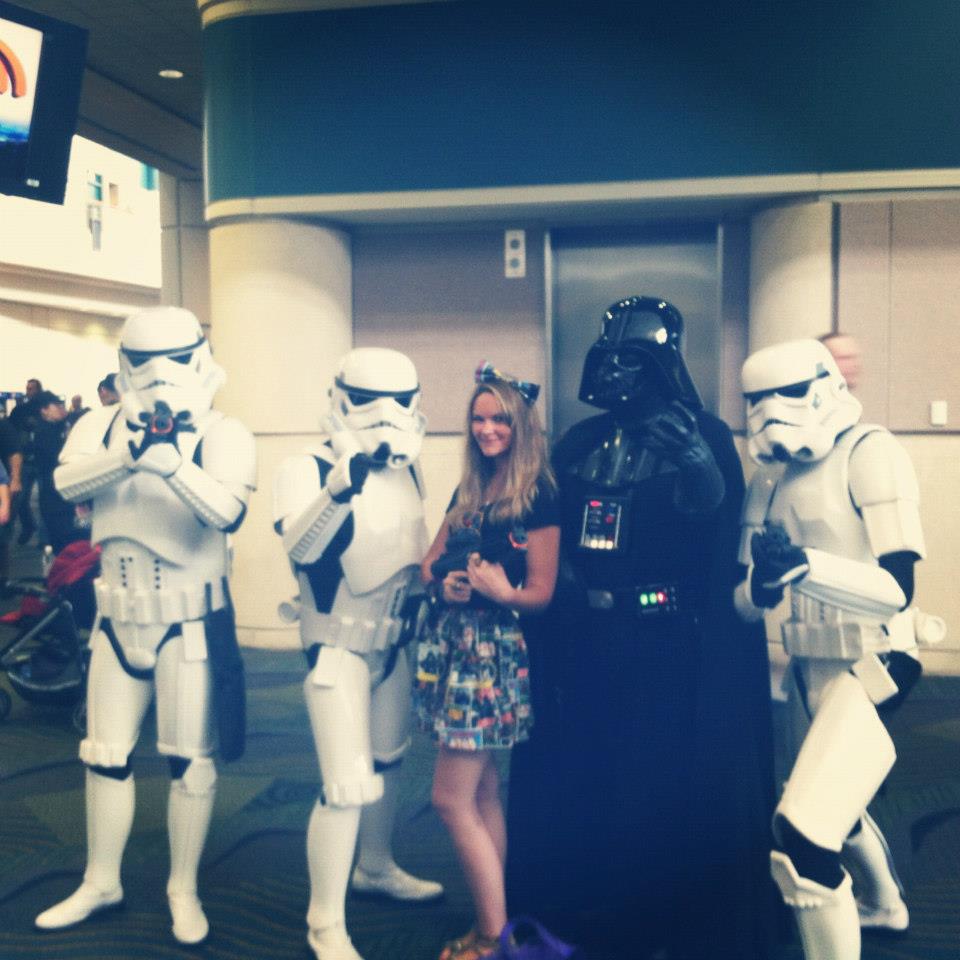 7) This one is really silly, but I'll never forget being in high school and for some reason my gym class had gotten our PE teacher really angry.  We probably didn't want to play whatever game was on the docket for that class so instead, he made us run back and forth in the gym from wall to wall while he screamed at us, "YOU ARE NOT THE JEDI!"  I don't know why that's stuck with me over the years, but I'll never forget it!
8) And of course, the best memory of all, is the space themed wedding to my amazing husband Andrew! We included elements from a couple of our favorite franchises but for Star Wars specifically, our floral centerpieces on the tables were in Death Star cookie jars, we played Empire Strikes Back on a giant projection screen in a separate room in case anyone was feeling overwhelmed by the lights and music and needed a break, we decorated the couches with Imperial/Rebel logo pillows, we played a looping supercut that Andrew made of spaceships on the screens within the main ballroom, our cake toppers were BB-8 and R2-D2 in a tophat and veil, our seating cards were attached to LEGO stormtroopers, and we entered the party wielding lightsabers. I'm sure I'm missing details, but those were some of the standouts!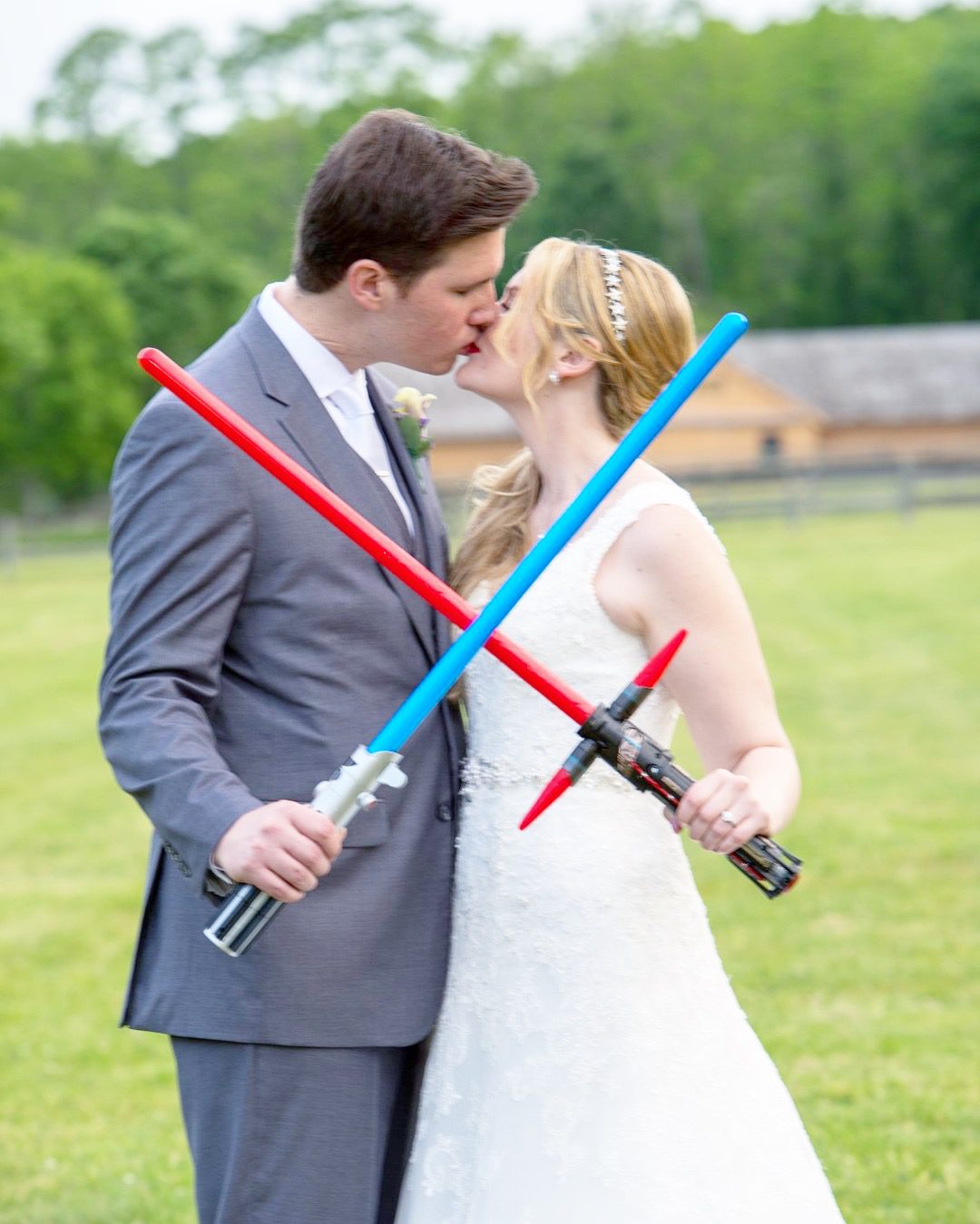 9)  While I can in no way pick a favorite Star Wars character since there are just too many good ones, I can say that Leia will always be a favorite for the boundaries she broke as a self-rescuing princess.  Going back and watching Carrie in her role, or even reading the books and comics, I tend to get really emotional to the point of tears when she does something heroic.  I so admire her strength and I've always wished to be like Leia.  I also all caps LOVE Ahsoka Tano.  She is by far my favorite character to come out of Clone Wars, and the relationship she has with Anakin is so special, tortured, and irresistible.  Ahsoka is another super strong female and I really admire her dedication to truth and doing what's right.  And lastly, my favorite droid ever, controversial opinion here, has always been and will always be C-3PO.  That anxiety ridden droid is one of the most relatable characters in the franchise honestly.
10) Despite being a huge fan and having some very strong opinions about different pieces of media that have been released, I have such an extreme affinity for this galaxy that even my criticisms come from a place of love.  I fully understand that not everything created is made for me and I love that something I might dislike could be the thing that turns someone else into a lifelong fan.  Star Wars is for everyone!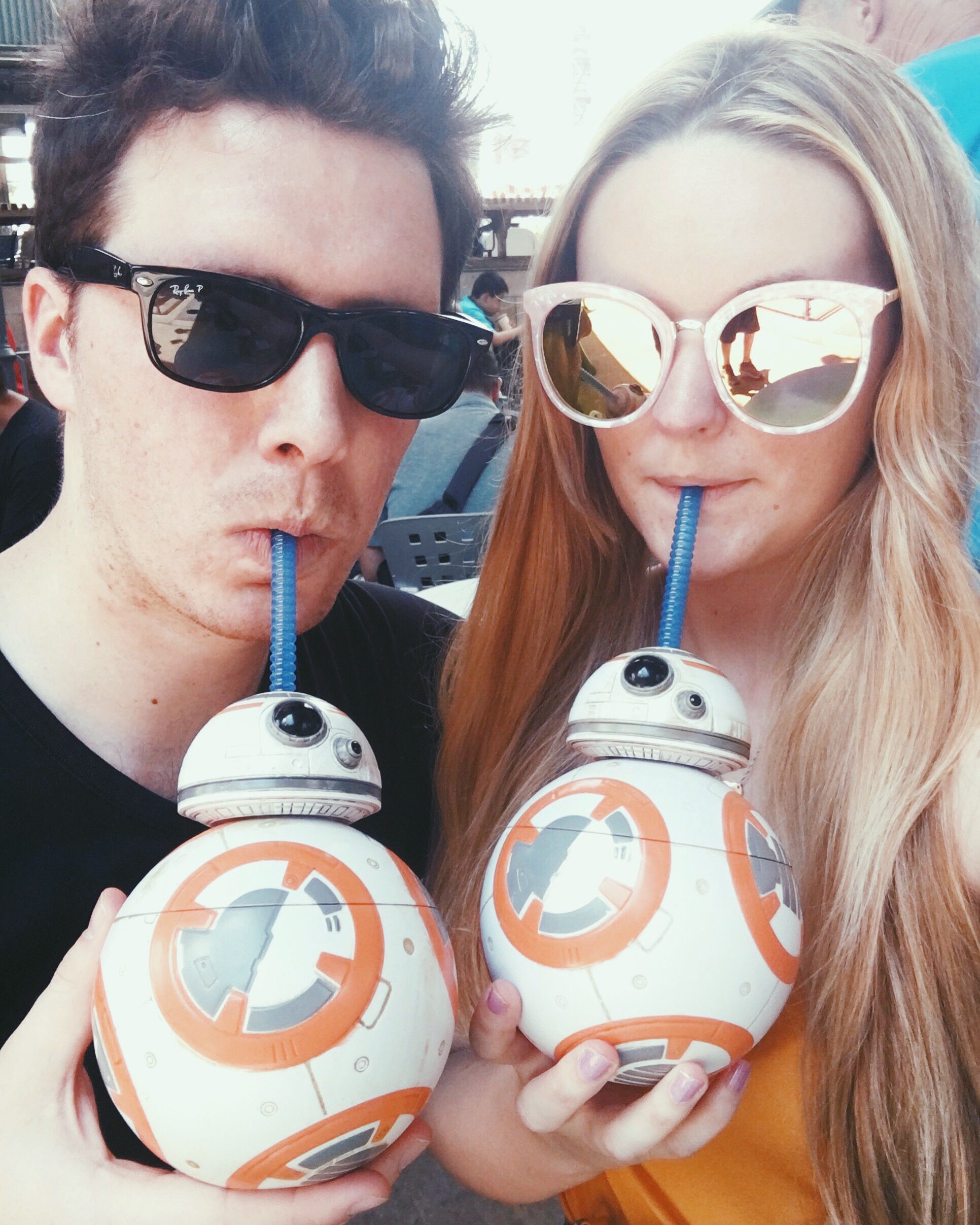 And here's a bonus pet peeve since this has been a pretty positive post and everyone loves a divisive opinion!
***Spoilers for The Rise of Skywalker (not the complaint you're thinking!)***  
11) Before the final film, it was advertised everywhere that Resistance Reborn was required reading.  Obviously, being me, I did my homework! The entire purpose of the book was for the Resistance to find allies within the galaxy utilizing every contact, no matter how loose.  They're able to recruit allies by the end so when watching the final battle in The Rise of Skywalker, everyone is like wow where are all of these other people coming from *gasp*?! I was like, really? I just read a whole book about where these people YOU found are coming from.