Back when I was on BookTube, I would make videos every so often about book series- book series I'm in the middle of, book series on my TBR, books series I've completed, etc. It's been a really long time since my last update and at the beginning of the year I revamped my Master Series spreadsheet. I'll include a screenshot of it at the bottom of the post since you all seem to love seeing my many spreadsheets (my people<3!). This post focuses on all of the book series I'm actively reading (or plan to resume soon) that I've made progress on. I have 28 series total on my list so here we go!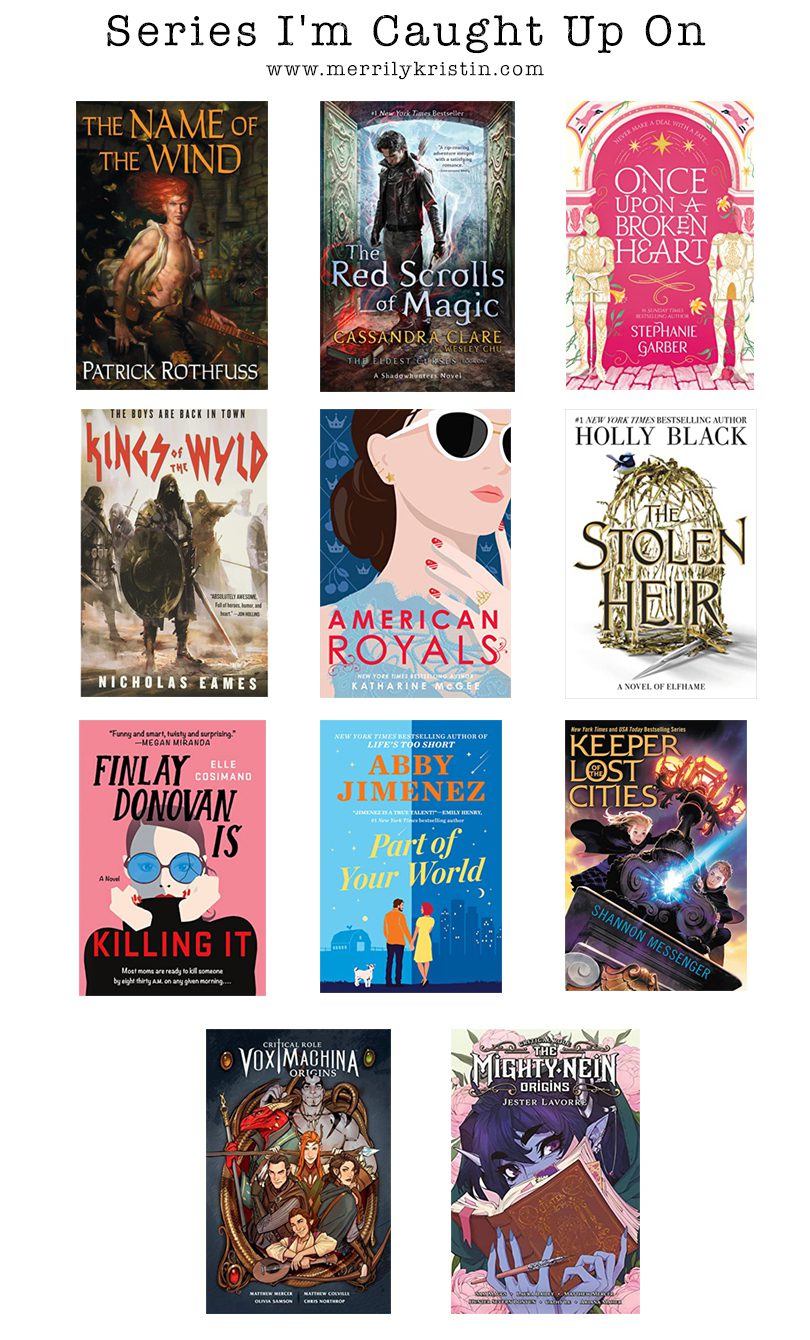 I'm completely caught up on each of the series in this section! There are 10 series total here which knocks my list down to 18 series that I can continue immediately if I get it together. Of this list, I'm obviously the most excited to read the concluding installment of The Kingkiller Chronicles, should it ever be published because who knows at this point. I'm also really looking forward to the conclusions of The Eldest Curses by Cassandra Clare and Wesley Chu, and Once Upon a Broken Heart by Stephanie Garber. The ending of that last book was killer. I'm sincerely hoping the next book in The Band series will come out soon (it's also been quite a while since Bloody Rose), and I'm also hoping the series will be more than three books. I just recently caught up on the last released book in the Keeper of the Lost Cities series and I cannot wait to find out what will happen next! American Royals, The Stolen Heir and Finlay Donovan are also expected to have one more book in the series and once all of these are released and read by me, my series spreadsheet will get significantly shorter!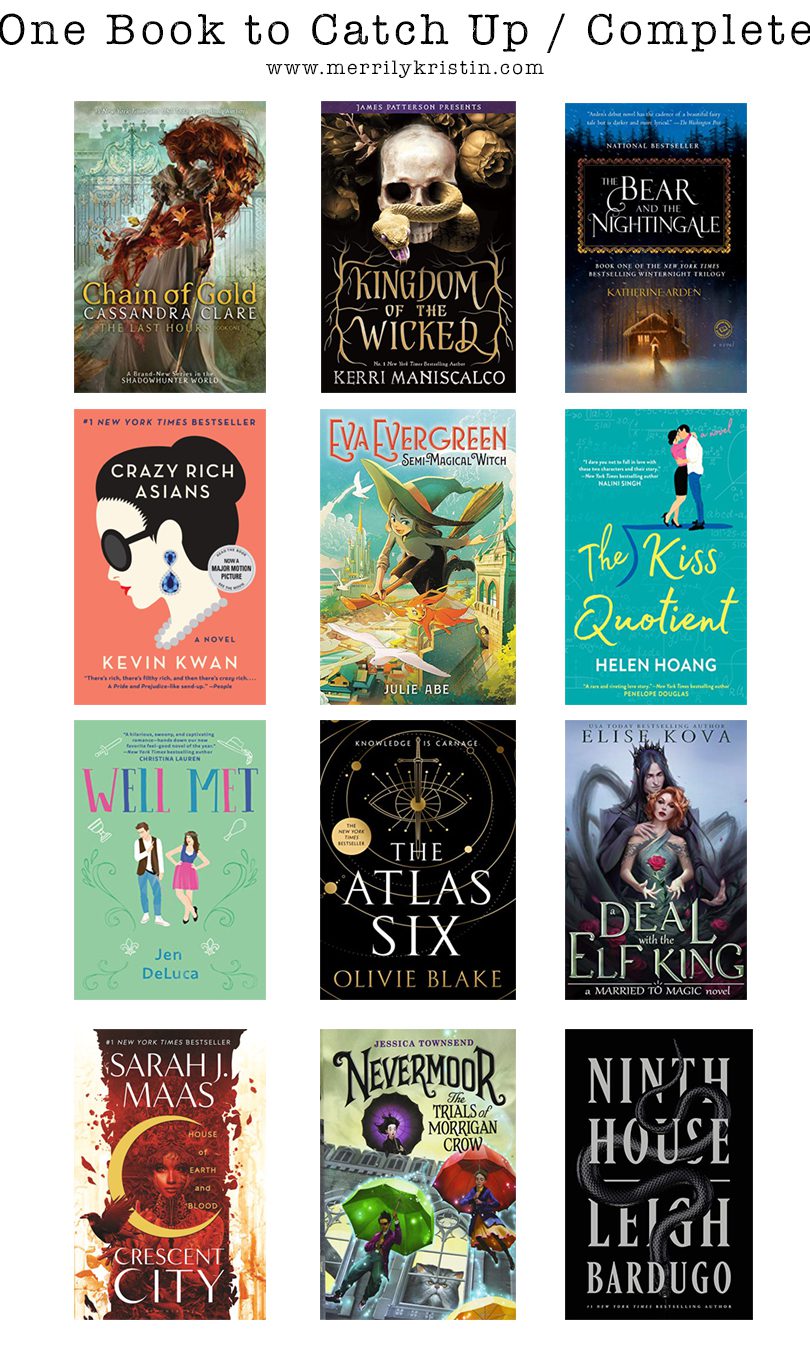 Next up, this section includes book series that I only have one book left to complete or catch up on and then I'll be able to move it over to my completed series tab. It will be so satisfying. Since I'm focusing on my physical TBR, it might be a little while until I complete the Crazy Rich Asians series since I think I unhauled them at some point? Or they got lost in the move? Could be either one! I'm currently reading Kingdom of the Feared so I've already moved that one over to the completed tab, and I plan to read Eva Evergreen and the Cursed Witch in the next week or so. I also really want to read the final Kiss Quotient book, but I've been nervous since I know it deals with a sick parent. As for The Bear and the Nightingale, my library hasn't renewed their license for The Winter of the Witch and now that it's been over six month, I'm going to just buy the eBook. I have really pretty FairyLoot special editions, but I don't want to commute with them. I'm also hoping to get to Chain of Gold in the next couple of weeks (and will also likely buy the eBook since the library wait is insane). Cannot wait to read the next Atlas Six book, the next Married to Magic book or the next Well Met book. I've been putting off the second Crescent City book since they're so long and I'm certain I forgot a ton from book one and I just can't see myself re-reading it. I've also been putting off the next Nevermoor book since Silverborn has been delayed a bajillion times. And I don't super care for the Alex Stern series but I am reading it anyway and I'm in no rush to get to Hell Bent since I thought this was a duology but surprise, we're getting a book three.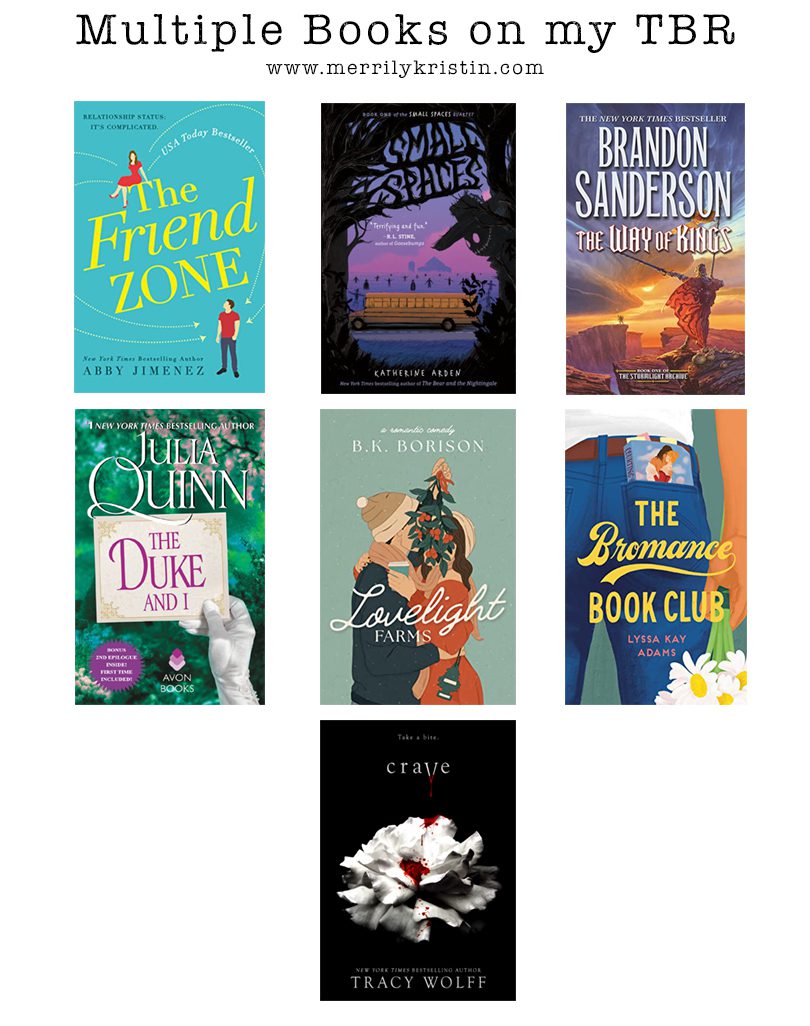 And finally, series I have multiple books to read before completing or catching up! These are lower priority since I want to complete some things I'm already in the middle of with the exception of The Friend Zone because Abby Jimenez has quickly become one of my favorite romance authors (even though she stomps on my heart constantly with her words). I've been reading Oathbringer since last year (hides behind hand) and I am determined to finish it this year. I'll still have to read Rhythm of War too, but since Stormlight book 5 got pushed back, I don't feel any urgency to catch up. I'm really excited to finally complete the Bridgerton series this year (I still have books 5-8 and the collection of second epilogues) and I'm also looking forward to catching up on Lovelight! I think I'll probably binge read the rest of the Crave series in August (that seems to be the month every year that I tackle a YA paranormal series). Small Spaces is lower on my list since I don't own them physically and Bromance Book Club has probably been on my list longest (I'm up to Crazy Stupid Bromance and I really just want to read the Christmas one but I can't bring myself to skip books despite them being standalones).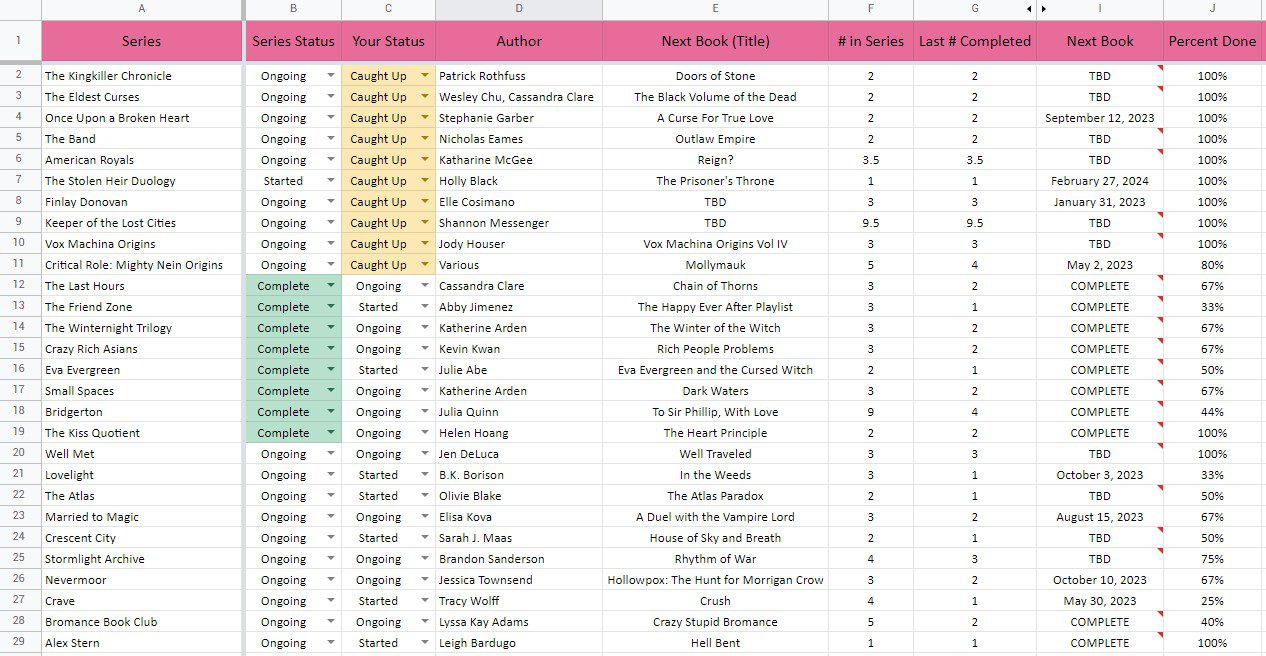 And finally, here is my spreadsheet! I always keep series I'm caught up on at the top, and then I tend to rank the rest of the sheet based on my reading priority. For instance, Last Hours and The Friend Zone are right at the top while Alex Stern is sitting at the way bottom.