Apparently 2023 is the year I rediscovered my love of graphic novels and it's all thanks to Critical Role! Since I've enjoyed catching up on all of their currently published graphic novels, I decided to add some more titles sitting on my shelf to my 2023 TBR.  My list of graphic novels consists of series I've already started and I'm interested in catching up on or completing, some standalones and one new release.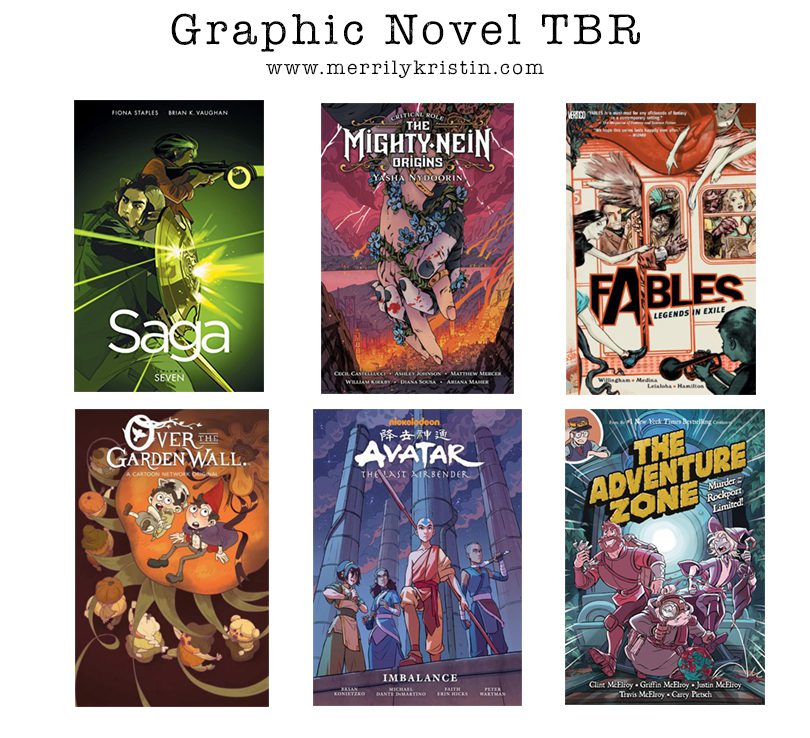 Saga by Brian K. Vaughn & Fiona Staples – I took a break from Saga when the creators took a very long break in the middle of the series.  I like that Saga has always been a planned story with a definitive number of issues so I've always intended to finish reading it, but I'm currently up to volume 7 and I'm ready to keep going now that volume 10 has been released.  I'm exactly halfway through the series since there are 14 volumes total planned.
Critical Role Mighty Nein Origins: Yasha Nydoorin – I'm almost completely caught up with all of the Critical Role graphic novels released to date, however, Yasha's origin story was delivered when Andrew and I were living with my dad before we moved into our house.  I need to make a trip over and try to find it since we've fully unpacked and it's still missing! I also have to read the Bright Queen's graphic novel, but I'm waiting on that one in case I'm not far enough into the campaign to avoid spoilers. I'm going to have Andrew screen it for me!
Fables by Bill Willingham and Mark Buckingham – Fables is by far one of my favorite graphic novel series ever.  It takes fairytale characters and follows them in modern day between NYC and an upstate farm where the animals reside.  Bigby, the Fabletown sheriff, is enlisted for help when Snow White sister Rose Red is murdered.  I love this series so much, but apparently I never read volumes 18-22! I want to do a re-read and then finish it up.
Over the Garden Wall by various authors – Over the Garden Wall is my favorite animated show of all time.  Andrew and I watch it a couple of times a year and it makes me immensely happy.  I still have to read volume 4-5 of the graphic novels and a couple of the original graphic novels.  It looks like the last one is tough to get in print so I'm hoping I can find it at a local comic book store. The only reason I'm not caught up is because some of the comics are pretty hit or miss.  There have been some truly excellent ones, and others that I could've done without.  Even within the same volume, it's an anthology of issues so the storytelling and artwork isn't always consistent or the correct tone for the overall series.
Avatar: The Last Airbender by Michael Dante DiMartino – This is the last A: TLA graphic novel that I have left which is why I haven't read it yet! Avatar is my second favorite animated show ever and the comics perfectly continue the series.  They stay true to the characters and I could see any of the story arcs of previous graphic novels being adapted into animated episodes both flawlessly and seamlessly.  I was pretty amazed at how consistently amazing they were able to transfer Avatar stories into another medium. I do also want to catch up on the Korra comics as well (I have one library edition and Andrew just bought me an OGN for Valentine's Day!).
The Adventure Zone by the McElroy's and Casey Pietsch – The Adventure Zone graphic novels are based on another D&D campaign that originated in podcast form- this one from the McElroy brothers and their father.  I did read volume one and I thought it was fun! But I want to catch up on volumes 2-4.  Volume 5 actually comes out this Tuesday!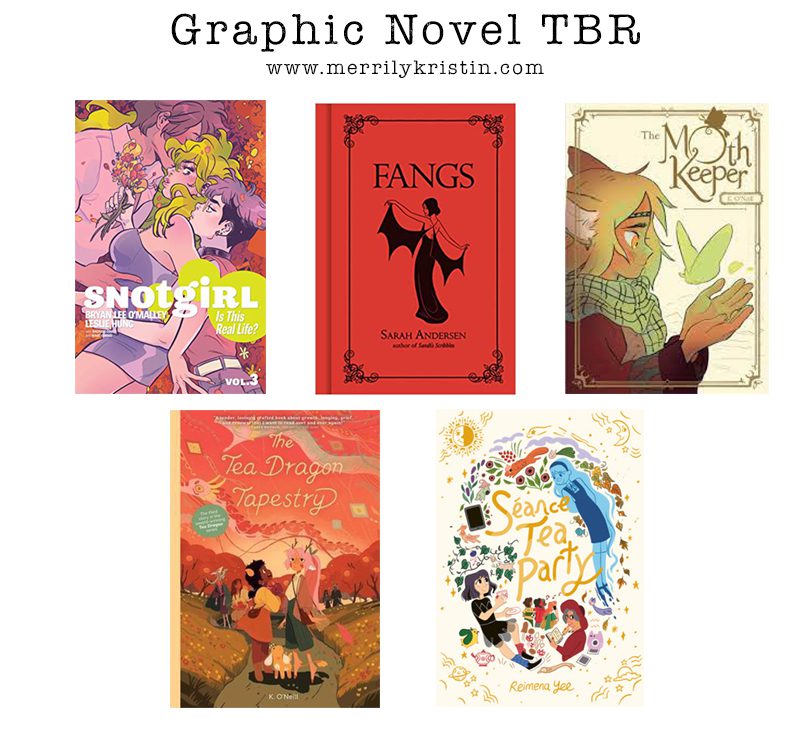 Snotgirl by Bryan Lee O'Malley and Leslie Hung – I initially picked up this series because I have an undying love for Scott Pilgrim, but I ended up also loving the first volume which follows an influencer and her circle of fake friends.  Volume two got a little weird and I've been hesitant to pick up volume 3 but since it seems like it's the last one, I think I'll just complete it and take this series off of my list.
Fangs by Sarah Anderson – This graphic novel is a lovestory between a vampire and a werewolf.  I love the aesthetic of the actual book (it's a blood red clothbound with black pages), and I'm intrigued! The artwork is completely done in black and white which is not something I usually go for, but I've heard good things about this one so I want to read it soon.
The Moth Keeper by K. O'Neill – This is the newest graphic novel from the author of the Tea Dragon Society and I'm so excited to see what's next! This one follows a moth keeper who decides to take a break from the moon and see the sun for the first time. It sounds very cute!
The Tea Dragon Tapestry by K. O'Neill – Speaking of Tea Dragons, I never got to the last graphic novel, The Tea Dragon Tapestry.  I imagine it'll be just as heartwarming as the other books in the series and I'm so looking forward to reading it.
Seance Tea Party by Reimena Yee – I picked this one up on a whim a couple of years ago but never got around to reading it! It follows a little girl who befriends her old imaginary friend who just so happens to be the ghost that haunts her house.