Fall has always been my favorite season for shopping but Summer has become a very close second over the past two years.  I'm such a sucker for a good dress. I love being able to throw on a single piece of clothing, look put together, feel comfortable, and just call it day. Tuckernuck is my favorite place to buy dresses so I made a collage of the ones that are currently on my wish list. It'll shock no one that they're almost all blue/white or navy!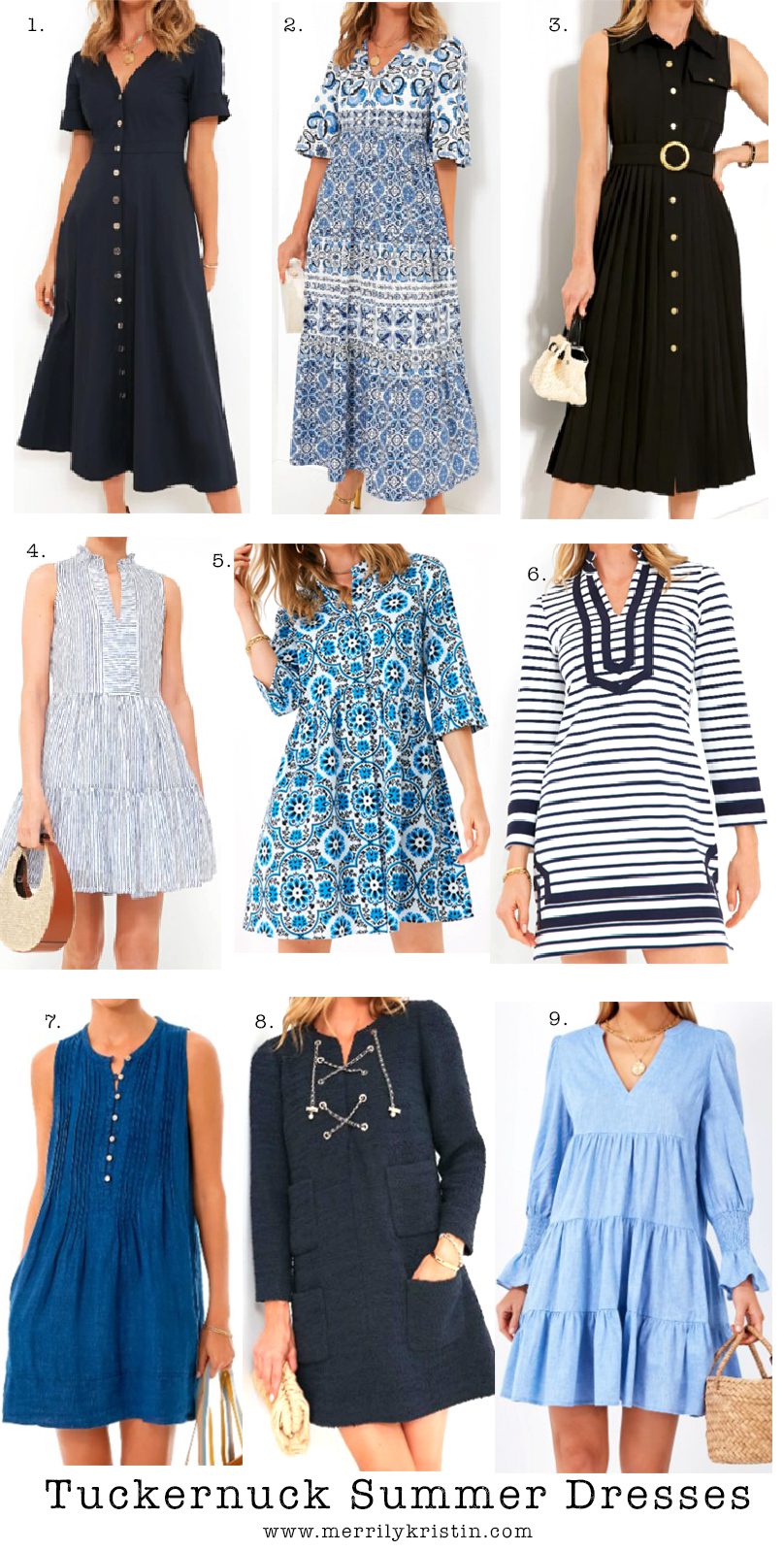 Kate Maxi Dress – Kicking it off with a dress I already ordered for myself (literally the day it appeared on their website).  I love this classic button front shirt dress. It'll be very cute paired with a leather belt, Jack Rogers, and a beach hat!
Majolica Ginger Jar Dress – As a ginger jar enthusiast, I was immediately drawn to this dress! It's on the pricey side so I don't know if I'll end up springing for it, but it's for sure a wish list item.
Anna Dress – Wow, I'm obsessed with this classic belted black dress.  It's the only dress to make my list that isn't navy or blue/white! The belt is super cute and I love the gold hardware.  Black and gold was a huge color combination for me in my first year of college so I'm often still drawn to it!
Oliphant Wiggy Yoke Dress – This blue and white stripe dress is calling to me! I love the ruffle detail on the neck and the tiered skirt.  So cute!
Royal Shirt Dress – This is another Tuckernuck dress style that I have in a ton of prints so I already know I love it. This print is so pretty! It's a little bit brighter than I prefer, but the tile design reminds me of one of my favorite board games (Azul)!
Sail to Sable Long Sleeve Tunic – I love Sail to Sable! I have some of their sleeveless summer tunics, but this long sleeve one is so perfect.  It's classic navy and white striped and I love the details around the neck, the sleeves and the hemline. Sadly this one is almost sold out already!
Faherty Isha Dress – This seems like a really great beach dress. It's easy to throw on to run errands and the pleating and mini buttons are adorable! I also love the indigo coloring which is reminiscent of denim.
Kelly Dress – This gorgeous dress has a Chanel feel to it. I love navy tweed and I especially love the chain tie front.  It reminds me of the chain on a Chanel purse but with a nautical twist. So classy!
Pomander Place Kenzo Dress – This dress is currently sitting in my shopping cart. I have Pomander Place's Kenzo dress in a couple of other colorways and every time I wear them I get a ton of compliments! The chambray is so cute for summer.