You can expect two anticipated releases post this week because in addition to my monthly releases post, I'm also going to be sharing my most anticipated books for the second half of the year later this week!  July has a lot of thriller and romance releases on the horizon and below are the ones that I personally can't wait for. Let me know if there's anything I missed that you have on your radar.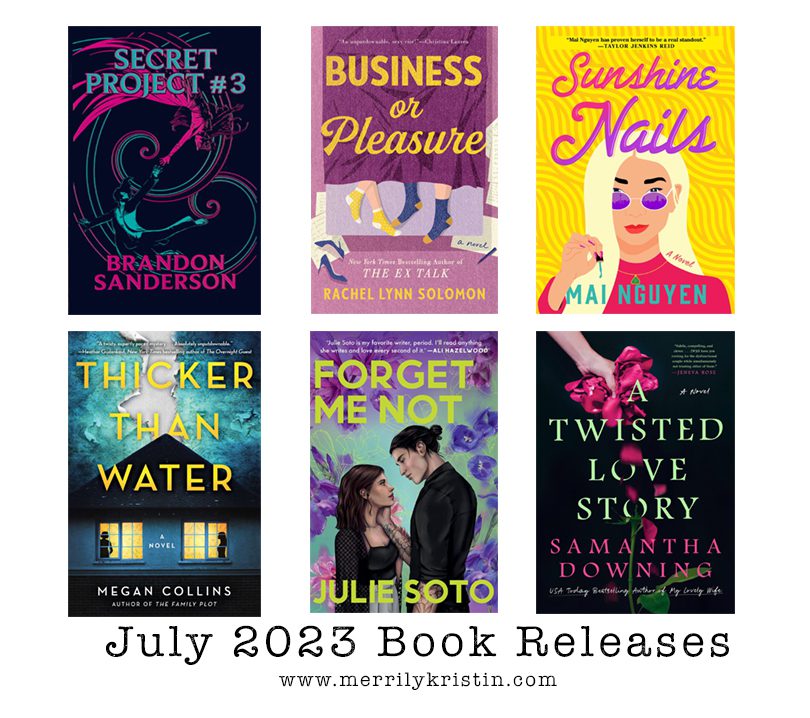 7/1 – Secret Project #3 by Brandon Sanderson – I am so looking forward to the next Secret Project! I won't say the title in case you're one of those people who feel like that's a spoiler, but it's honestly the title that got me so excited for this one!
7/4 – Business or Pleasure by Rachel Lynn Solomon – This romance follows a ghostwriter who unknowingly has a very awkward one night stand with a c-list actor who turns out to be the next client she's ghostwriting for.  When he learns that their night was less than mind blowing, the pair strike a deal where Chandler will teach Finn the art of satisfaction.
7/4 – Sunshine Nails by Mai Nguyen – This book is a debut about a Vietnamese Canadian family in Toronto who will do whatever it takes to protect their no-frills nail salon after a new high end salon opens up, even if it tears the family apart.
7/11 – Thicker Than Water by Megan Collins – This thriller follows best friends and sister in laws who's relationship gets tested when one of the women's husband's bosses ends up murdered and he becomes the prime suspect. To complicate things further, he gets into a bad car accident and is placed in a medically induced coma so the women work together to clear his name.
7/11 – Forget Me Not by Julie Soto – This new romance hadn't been on my radar until I saw that it would be the Afterlight pick and now I'm so excited to read it! It follows a wedding planner who has to work with her grumpy florist ex, who's heart she broke, on the most high profile wedding of his career.
7/18 – A Twisted Love Story by Samantha Downing – I loved Samantha Downing's For Your Own Good and I'm really looking forward to reading her newest which is described as a reckless, delicious thriller about a young couple that gives a whole new meaning to the dangers of modern dating.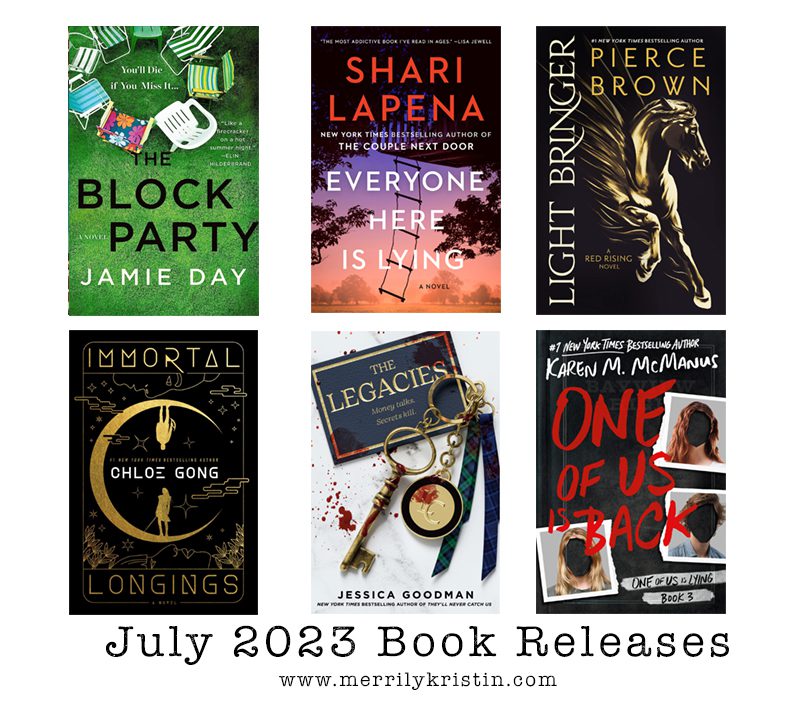 7/18 – The Block Party by Jamie Day  – This thriller takes place during the night of Alton Road's annual block party when a murder occurs and the entangled web of secrets between neighbors begins to unravel.
7/25 – Everyone Here is Lying by Shari Lapena – Everyone seems to love Shari Lapena but I have yet to read anything by her! This one is a domestic suspense novel and it seems like as good a place as any to start!
7/25 – Light Bringer by Pierce Brown (Red Rising #6) – No synopsis here because I still have to read Iron Gold and Dark Age, but man do I love this series with the whole of my being.
7/25 – Immortal Longings by Chloe Gong (Flesh and False Gods #1) – It seems like every book box is featuring Chloe Gong's adult fantasy debut inspired by Shakespeare's Antony and Cleopatra and I'm looking forward to checking it out.
7/25 – The Legacies by Jessica Goodman –  I feel like a broken record with how much I've been talking about The Legacies, but I'm really looking forward to this YA thriller set at an NYC prep school.
7/25 – One of Us is Back by Karen M. McManus (One of Us is Lying #3) – It will be interesting to see if I remember anything from the second book before going into One of Us is Back, but I'll read anything Karen M. McManus publishes!