June completely flew by and I did a terrible job with that TBR. I only managed to read Bad Summer People, (but I'm currently in the middle of The Hotel Nantucket and The Block Party). With our week of family vacation, we had almost no downtime at all and I caught a cold that also greatly hindered my reading. So while I can't believe that it's already time to post a new TBR, I'm excited to start July, the best month and my birthday month, with a new reading list! In addition to my recently posted Kindle Unlimited TBR, these are the books I'm planning on reading in July!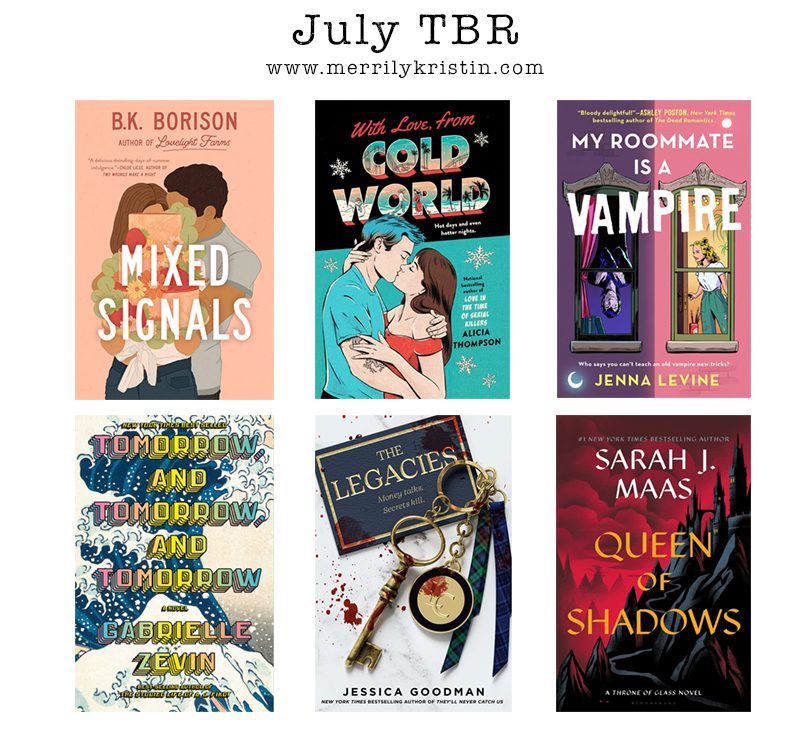 Mixed Signals by BK Borison (Lovelight #3) – I enjoyed Lovelight Farms, but I really enjoyed In the Weeds and I'm really excited to continue the series.
With Love, From Cold World by Alicia Thompson – Another romance I have an ARC of that I'm really looking forward to reading! I love the cover of this one and it follows a girl who falls for her coworker while trying to save the amusement park they work at.
My Roommate is a Vampire by Jenna Levine – Truly my most anticipated release for the second half of the year- I have really high hopes for this vampire romance (and Ashley Poston recently endorsed it in a book event I virtually attended so I'm even more hyped!).
Tomorrow, and Tomorrow, and Tomorrow by Gabrielle Zevin – This is another one of my 12 to read in 2023 books and my hold just came in from the library!  I can't wait to read this literary fiction book about friendship and video games.
The Legacies by Jessica Goodman – I literally just got approved for an ARC of The Legacies and I cannot wait to read Jessica Goodman's newest YA thriller about elite NYC prep school student trying to get into an even more elite club.
Queen of Shadows by Sarah J. Maas (Throne of Glass #4) – I kind of impulsively decided to re-read the Throne of Glass series on audiobook and next up is book three, Heir of Fire. I've been toying with the idea of treating myself to the new covers after I finish each re-read.