I'm back with my second half of the year anticipated releases list! I decided to break my list in half this year since there are usually a good amount of fall releases that aren't granted covers or even announcements until closer to their release date and I didn't want to miss out on including them.  I'm once again limiting my list to 12 releases which averages to 2 releases per month.  At the end of the year, I'll do a recap and see how many I ended up reading! What book are you most looking forward to that hasn't been released yet? Also as a note, I cut Lightbringer by Pierce Brown from my list since I'm not yet caught up on the series (and have been debating waiting to continue the second saga until the final book is being released) but just know that it hurt my heart to do so after how deeply I've fallen in love with the Red Rising saga this year.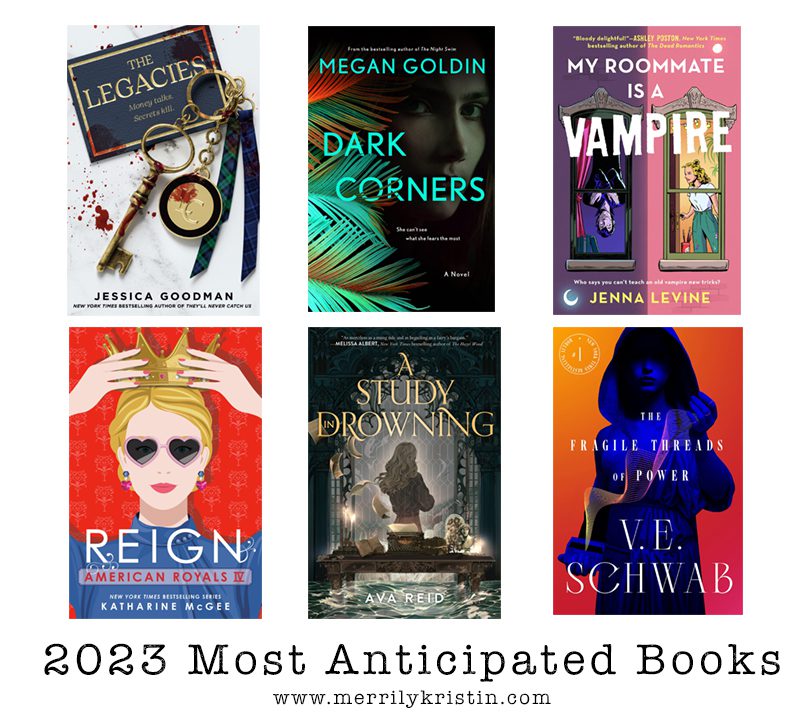 July
7/25 – The Legacies by Jessica Goodman – I just got approved for a NetGalley ARC of The Legacies and I could not be more excited! Jessica Goodman's newest YA thriller is set at an elite NYC prep school. The tagline is "Old money. New secrets. One killer party." Count me in!
August
8/8 – Dark Corners by Megan Goldin (Rachel Krall #2) – I loved The Night Swim and I'm so excited to revisit Rachel Krall, the podcaster in book one, as she tackles another case.  The police approach her when an influencer goes missing after visiting a man suspected of killing six women. So excited!
8/15 – My Roommate is a Vampire by Jenna Levine – This is everything I want in books lately.  I've never been able to get enough vampires and this one is a romcom which could not sound more appealing.
8/29 – Reign by Katharine McGee (American Royals #4) – While I'm so sad this series is coming to an end, I can't wait to see how everything is going to wrap up for my dramatic American Royals!
September
9/19 – A Study in Drowning by Ava Reid – This will be my first Ava Reid book and it sounds spectacular. It follows a character who's been plagued by visions of the Fairy King since she was a child.  At her prestigious architecture school, she gets the opportunity to design the mansion of an author who's written books about a mortal girl who falls in love with the Fairy King and destroys him.  It's a gothic dark academia thriller with romance. What more could anyone ask for?
9/26 – The Fragile Threads of Power by V.E. Schwab (Threads of Power #1) – I can't believe we're finally getting Threads of Power, the spin-off / continuation series of A Darker Shade of Magic. I'm so excited to revisit this world and these characters and I'm hoping to sneak in a re-read of the original series before this one releases.
October
10/3 – Midnight is the Darkest Hour by Ashley Winstead – Ashley Winstead is hands down my favorite thriller author so her newest release is a no brainer for me. This one is a southern gothic thriller and I can't wait to see what social issue Ashley will tackle next.
10/10 – Sword Catcher by Cassandra Clare (Sword Catcher #1) – O.M.G. So I just received an ARC of this book in the mail and I'm over the moon! Sword Catcher is Cassandra Clare's first epic fantasy novel and it's not set in the world of the Shadowhunters. I'm so thrilled to see what's next from her!

10/24 – A Curse for True Love by Stephanie Garber (Once Upon a Broken Heart #3) – When I tell you that the cliffhanger at the end of book two almost killed me, I am not kidding! I need this concluding novel, like, yesterday.
November
11/7 – Bookshops & Bonedust by Travis Baldree (Legends & Lattes #0) – I'm so glad that Travis Baldree's next novel is a prequel to Legends & Lattes! I'm looking forward to seeing familiar characters in this cozy fantasy and following Viv once again.
11/14 – The Narrow Road Between Desires by Patrick Rothfuss (Kingkiller Chronicle #2.6) – While it's not the third and final book in the series (major side eye here), I'm still pretty excited to get anything new from Patrick Rothfuss.  This novella is from Bast's perspective and it's an expanded release of the short story, The Lightening Tree.
11/28 – The Mystery Guest by Nita Prose (The Maid #2) – I had no idea that The Maid was not going to be a standalone so when I saw the announcement that we would be getting more Molly, I immediately added this one to my list! Can't wait to see what new mystery awaits at the Regency Grand Hotel.