As I mentioned in my 2022 goals and resolutions post, this is the year of budgeting for me so each of these purchases was extremely intentional and thought out before actually taking the plunge.  There are a couple of December purchases in the mix since I haven't posted about them!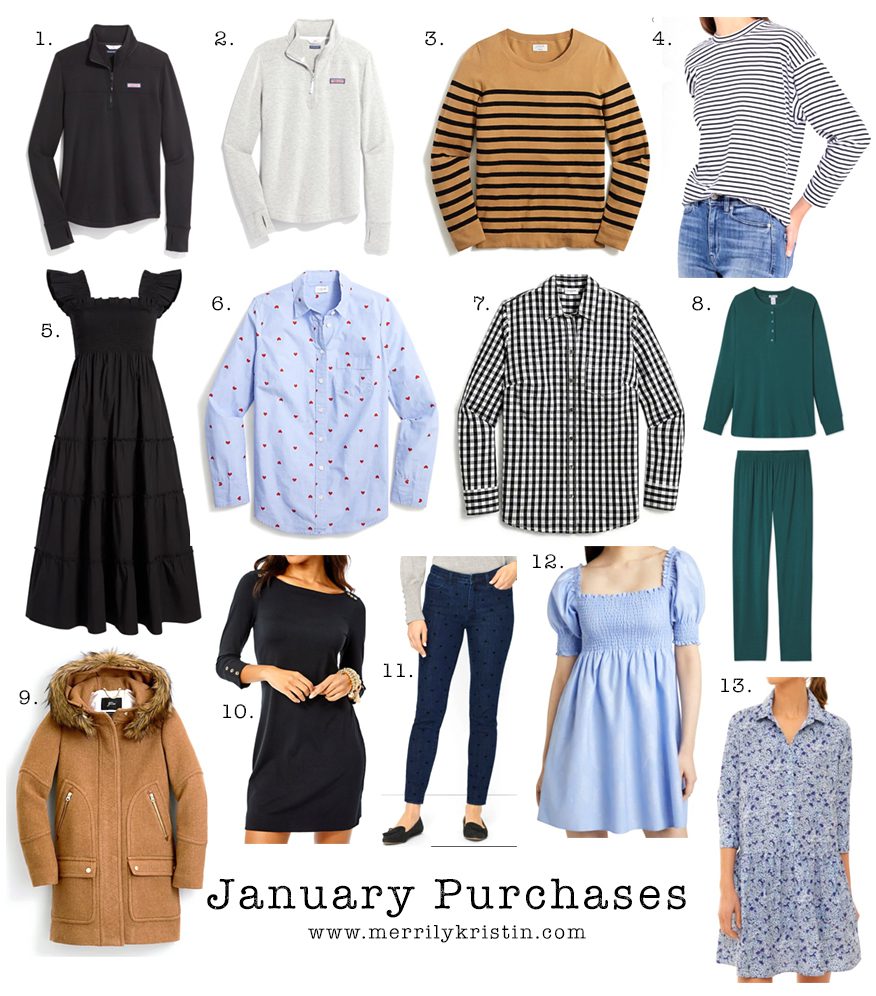 1, 2) Vineyard Vines DreamCloth Relaxed Shep Shirt in Black & Gray – January for me is always about staying cozy at home.  I already have one Vineyard Vines shep shirt that I wear all the time (the dreamcloth fabric is so, well, dreamy) so I decided to add basic black and basic gray versions to my at home rotation.  I've been wearing them non-stop so no regrets!
3) JCrew Factory Cotton Teddie Sweater in Camel Black Stripe – I was not really in the market for another camel sweater but I was so drawn to the black stripe design.  Camel/black is one of my favorite color combinations so this sweater just called out to me.  It's cotton too so I'll be able to wear it year round.
4) AYR The French Fry Shirt in Piano Stripe – I've been seeing so many people talk about AYR in the past two weeks (I also mentioned this shirt in my first installment of The Bright Side on my blog) so I caved it and bought one and I cannot wait to wear it.  It just arrived a few days ago and it's so soft.  It's definitely on the boxy side and I don't really have many relaxed fit shirts.
5) Hill House Ellie Nap Dress in Black Poplin – I'm a total Nap Dress fan and I'm so glad I was able to pick up the basic black poplin version when it was on sale in December.  This is for sure going to be a spring and summer staple for me.
6) JCrew Factory Heart Printed Button Up – I absolutely LOVE hearts so whenever Valentine's Day rolls around I always find a few things to pick up.  This shirt puts a fun spin on the classic oxford and I can already think of at least 5 different ways to wear it.
7) JCrew Factory Gingham Cotton Poplin Shirt in Black/Ivory – After my heart print shirt arrived, I realized how well the JCrew Factory button ups fit me so I also picked up this black/white gingham pattern which is another staple I'll be wearing to the office and on weekends.
8) Lake Pajamas DreamKnit Henley Set in Fir – I am head over heels in love with these pajamas.  The material is one of the softest I've ever felt and any time they're not in the laundry, I am wearing them! They come in a striped version too and you better believe they're on my wish list!
9) JCrew Chateau Parka in Heather Acorn – This was on my 2022 fashion wish list and I wasn't planning on getting it until November, but when I saw it was on sale for 55% off, I couldn't possibly wait! That's a better deal than their usual Black Friday sale.
10) Lilly Pulitzer Sophie Dress in Navy – This dress was my sole purchase from the Lilly Pulitzer Sunshine Sale which happened at the beginning of January.  I honestly didn't think I was going to buy anything this time around but the Sophie dress in navy (which has been on my wish list for about a year now) showed up while I was browsing, it was a no-brainer.
11) Talbots Dark Denim with Flocked Bows – In case you haven't noticed, I have a thing about bows.  I really love them! These novelty bow jeans are so cute.  They're subtle but really lovely in person.
12) Hill House Athena Nap Dress in Blue Glitter Check – I also picked up this new to me style of the Nap Dress during the December sale because it was only $35 and I couldn't resist! I'm so excited to wear it when the weather gets warmer.  Hill House is coming out with another shorter style of the Nap Dress in their February collection launch and I'm for sure going to get one!
13) Tuckerncuk Hayes Shirtdress in Hydrangea – Huh, I must miss Spring. This is the second hydrangea print item I bought this month (the other one being a set of sheets that I'll be sharing in an upcoming post).  This dress is another long time wish list item that I was able to get on sale!