I took a bit of a hiatus after an action packed Spring/Summer so my last new book releases post was back in July! I'm excited to be revisiting this post series so I can outline what I'm looking forward to reading in the near future.  We're winding down and there are never a ton of releases in November / December, but I did manage to put together a list of ten books that have caught my attention.  Are there any 2022 releases still on your radar?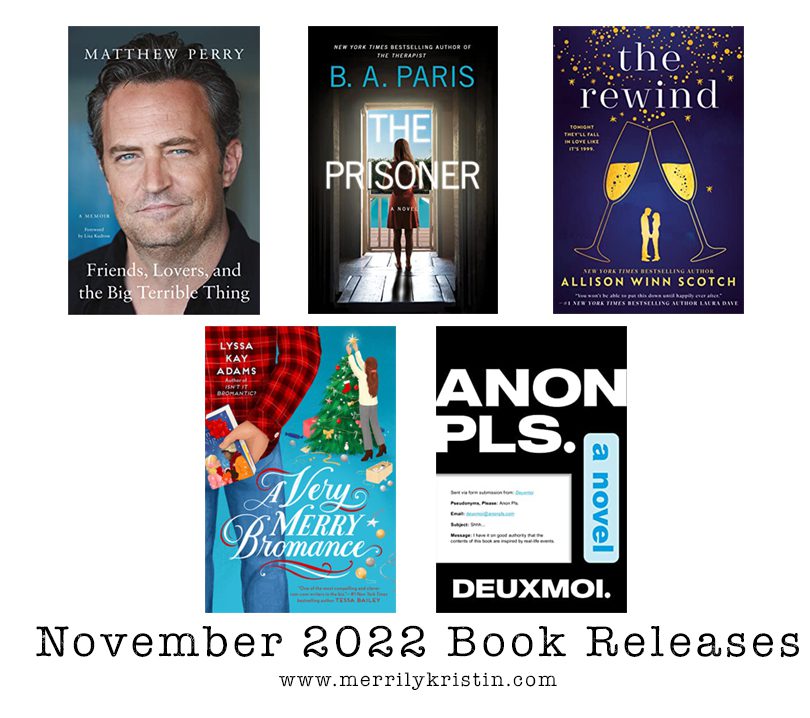 11/1 – Friends, Lovers, and the Big Terrible Thing by Matthew Perry – As an avid lover of Friends, I'm so excited to read Matthew Perry's memoir.  I've heard a lot of criticism for it already, but I'm still hopeful that the inside tidbits on Friends will help me get past his supposedly misogynistic tone.  I'll report back if I have similar issues after I read it!
11/1 – The Prisoner by B.A. Paris – In October, I solely read thrillers and romances and it was exactly what I needed. I'm excited to continue the trend.  I haven't read any of B.A. Paris's other novels, but I'm hoping I'll enjoy this one enough that I'll be motivated to catch up on their backlist.  This one follows a woman who marries a billionaire but then wakes up as a prisoner in a pitch-black room.
11/1 – The Rewind by Allison Winn Scotch – I really love the premise of this romance! It sounds like it would make an excellent rom-com if it were to get adapted. It follows two exes who wake up together with wedding bands on their fingers and no idea how they got there.  They spend New Year's Eve 1999 trying to piece together what happened and it's told between two timelines- the present, and ten years ago in college when they first dated.
11/1 – A Very Merry Bromance by Lyssa Kay Adams – I had been going back and forth on whether I wanted to continue this series (I'm two books behind), but when I saw that Lyssa Kay Adams added a Christmas romance about a Country star reuniting with his childhood girlfriend to the mix, I knew I had to catch up!
11/7 – Anon Pls. by Deuxmoi – This novel is by the person behind the celebrity gossip account Deuxmoi on instagram.  It's described as Gossip Girl meets The Devil Wears Prada and I don't need to know anything else!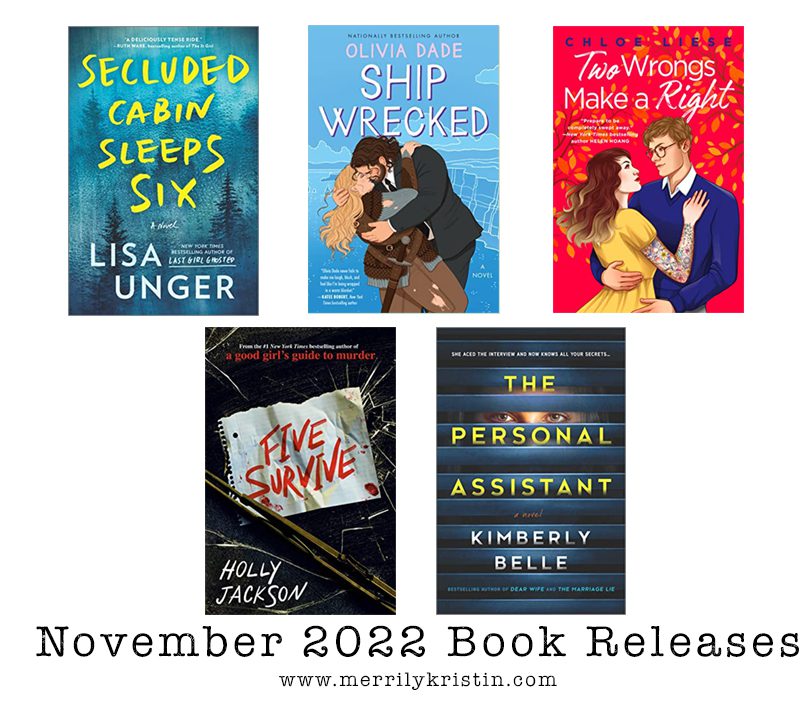 11/8 – Secluded Cabin Sleeps Six by Lisa Unger – The thriller about three couples who rent a luxury cabin in the woods for a weekend getaway sounds like the locked room thriller of my dreams! Family secrets, a storm and a house with a chilling history all add to the intrigue.
11/15 – Ship Wrecked by Olivia Dade – Olivia Dade revisits the world of Spoiler Alert and All the Feels in her newest romance about two co-stars who once had an incredible one night stand, and after years of filming together on the same remote island, are finally ready to yield to temptation again. Sounds cute and steamy!
11/22 – Two Wrongs Make a Right by Chloe Liese – I have SO many Chloe Liese books on my TBR at the moment.  I haven't read anything by her, but her Christmas romance last year put her on my radar and I'm hoping to check out her work before the end of the year.  Her newest romance is a modern day reimagining of Shakespeare's Much Ado About Nothing.
11/29 – Five Survive by Holly Jackson – I adored Holly Jackson's Good Girl's Guide to Murder trilogy and I'm so excited for her next book! This standalone follows six friends over the course of an eight hour road trip heading to the beach for Spring Break but they're being pursued by a sniper who would kill for one of the friends' secrets.  It doesn't sound like something I would normally go for, but I'm going to give it a shot since I enjoyed her other books so much!
11/29 – The Personal Assistant by Kimberly Belle – Wow, this thriller sounds amazing! I love anything involving the darker side of the internet and this book explores just that when a mommy-blogger's assistant goes missing.