February was another excellent reading month quantity-wise! (Also what a nice round number for pages read this month- I find it oddly satisfying).  Overall, everything I read was pretty middle of the road. The standouts for me are Yours Truly which is a new favorite, and the Vox Machina graphic novels, but everything else, even my continued and finished series only ranked between 3-4 stars for me. I don't count re-reads when I'm making my favorites of the month, but The Hunger Games definitely ranks as one of my favorite reading experiences of the month.  I'm actually enjoying it way more than I did the first time I read it all those years ago (more on that in a series wrap up post when I complete my full re-read!).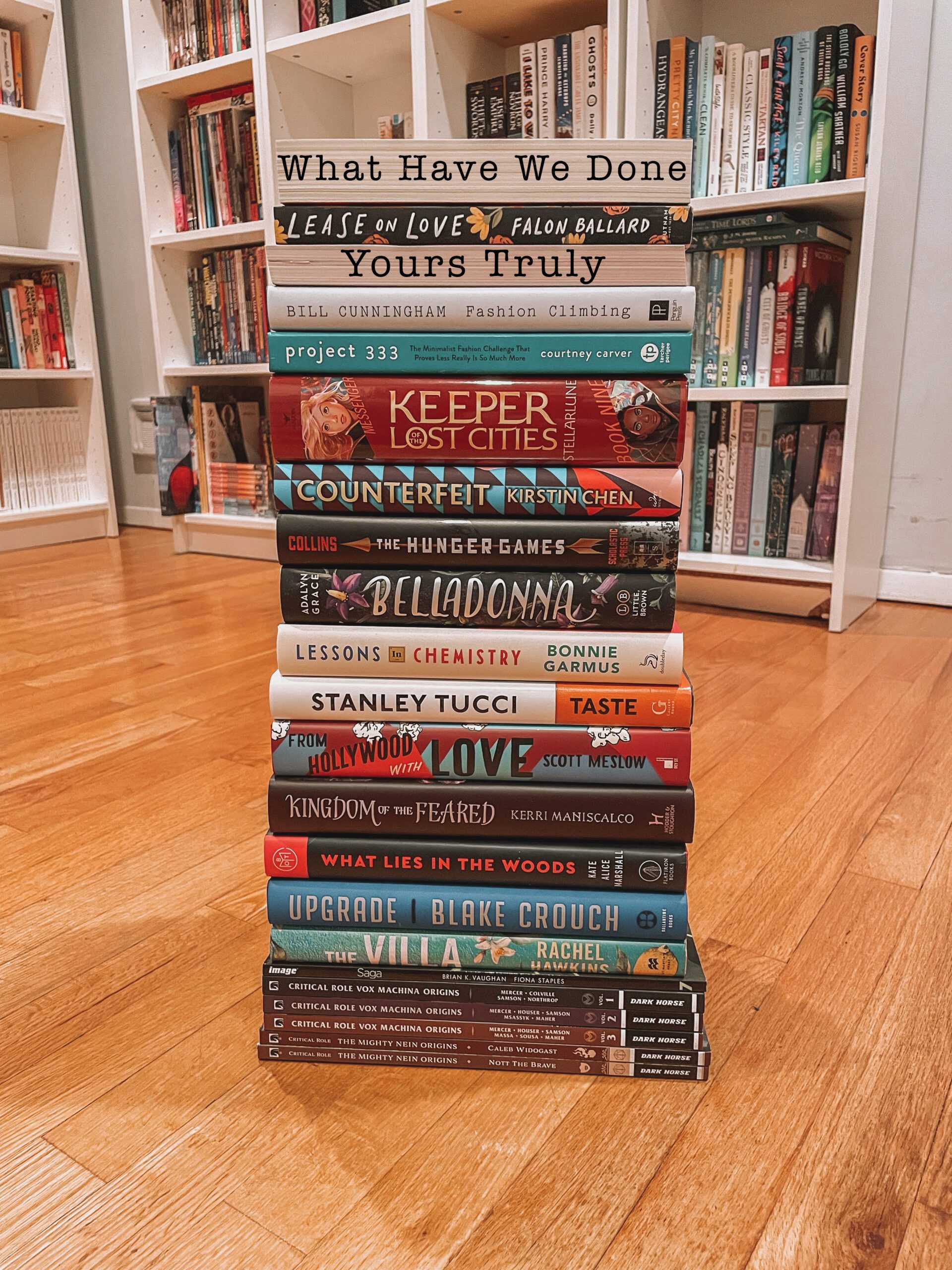 Books read: 21  |  New Releases: 5  |  Rereads: 1  |  DNFs: 1
Pages Read: 6,500  |  Series Continued: 4  |  Series Started: 3 | Series Completed: 2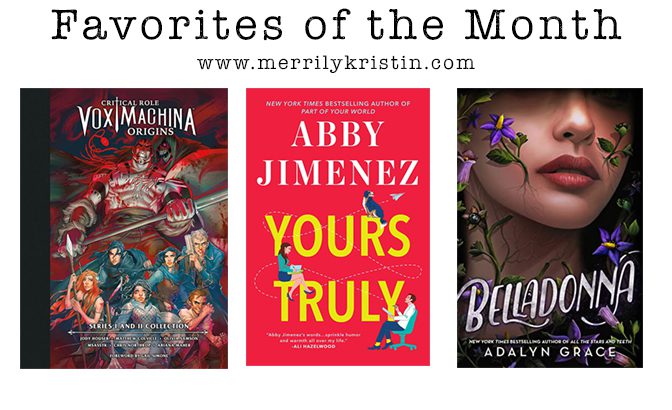 Least Favorites of the month
Looking back through my list- I really can't pick a least favorite of the month. Everything was pretty middling for me in February.  My 5 lowest rated books were all 3 stars.
Reviewed
1. Secluded Cabin Sleeps Six by Lisa Unger
2. Finlay Donovan Knocks 'Em Dead by Elle Cosimano
3. Finlay Donovan Jumps the Gun by Elle Cosimano
5. I Like to Watch by Emily Nussbaum
7. Pretty Dead Queens by Alexa Donne
8. Counterfeit by Kirstin Chen
9. The Villa by Rachel Hawkins
10. Yours Truly by Abby Jimenez
11. One to Watch by Kate Stayman-London
12. The Bodyguard by Katherine Center
13. The Stolen Heir by Holly Black (The Stolen Heir Duology #1)
14. Stellarlune by Shannon Messenger (Keeper of the Lost Cities #9)
15. Kingdom of the Feared by Kerri Maniscalco (Kingdom of the Wicked #3)
Blogged
1. Mini-Reviews #16: Secluded Cabin Sleeps Six, Finlay Donovan 2 & 3
4. Mini-Reviews #17: Spare, I Like to Watch & Cultish
5. My Star Wars Facts and Opinions
6. Mini-Reviews #18: Pretty Dead Queens, Counterfeit & The Villa
8. Mini-Reviews #19: Yours Truly, One to Watch & The Bodyguard
10. All the Series I'm Currently Reading
11. Manga TBR
12. Mini-Reviews #20: The Stolen Heir, Stellarlune & Kingdom of the Feared
13. March Book Releases | 2023
14. March TBR
Most Liked Photo